Mangano: New Home For Homecoming Hero In Hicksville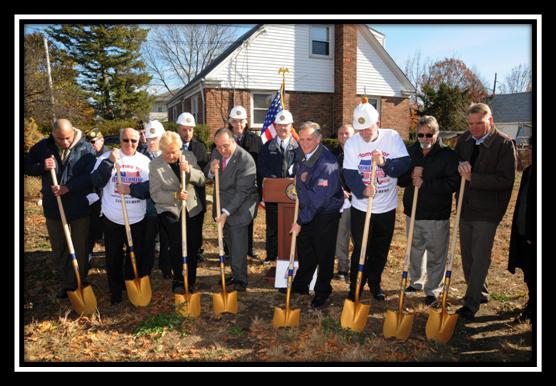 Nassau County Executive Edward P. Mangano today broke ground for a new home being constructed for a returning veteran. The Hicksville property was formerly vacant and owned by Nassau County and will soon be the home of a returning veteran thanks to the assistance of the not-for-profit corporation, Homes For Our Homecoming Heroes, Inc., which is a volunteer-based organization whose mission is to build affordable housing for veterans returning home from serving in Iraq and Afghanistan.
"My administration is providing affordable housing for our nation's heroes and their families right here in Nassau County," said County Executive Mangano. "Together with Homes For Our Homecoming Heroes and the new homes Nassau County provided for veterans at Mitchel Field, we are working tirelessly so that no veteran is left homeless in Nassau County."
Homes For Our Homecoming Heroes, Inc. coordinates the construction of homes by building professionals and volunteer organizations. The organization is in the process of qualifying the selected veteran who was chosen through an affordable housing from a lottery at the present time. Once qualified, the selected veteran will purchase the new home for the cost of construction.
In addition to veterans being able to purchase a home at cost, one percent down payment will be required and the principal will be repaid over a 30 year period with no closing costs. The loan is being secured with the State of New York Mortgage Agency (SONYMA).
"Our servicemen and women leave their homes and risk their own lives in order to protect the freedoms that we hold so dear," said County Executive Mangano. "They deserve all the assistance that we can give them and that's exactly what our veterans will get here in Nassau County on my watch. Since taking office in 2010, I have made it a priority to honor our veterans and active duty military who are serving our nation here and abroad. To date, we have established 42 County-owned homes, located at Mitchel Field, to provide affordable housing for veterans and their families and an additional 18 homes for active-duty military personnel. I am happy to report that all of these homes are fully rented and I am looking forward to the official ribbon cutting on the Hicksville property, which will be the future home of one of our well deserving veterans."