Mangano Opens Transit Oriented Affordable Rental Opportunities In Hempstead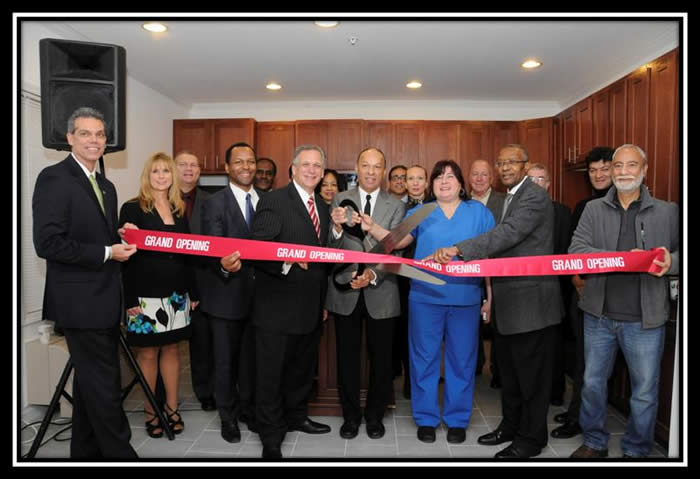 Pictured with County Executive Mangano are: Hempstead Mayor Wayne Hall; Hempstead Village Trustees Donald L. Ryan and Luis Figueroa; Dan Bythewood, Jr., Alicia Bythewood and Dan Bythewood Sr, from LaCite Development, LLC.; Marilyn Singh, Village Loft's first renter; Henry Holley of the Town of Hempstead Housing Authority; Frank Socci, NAI Long Island; Barbara Becker and Anthony Eserno of TD Bank; and Eli R. Dubinsky, PE, President Dubinsky Consulting Engineers, PC.
Nassau County Executive Edward P. Mangano today officially opened Village Lofts, a 29-unit transit-oriented rental development in the Village of Hempstead. This new housing opportunities, located at 479 Front Street, contain 23 (80%) workforce housing units and 6 (20%) affordable housing units. Village Loft is one of several residential developments assisted by the Mangano administration. Other projects include Jefferson Plaza in Farmingdale (154 units – under construction), Landmark in Great Neck Plaza (93 units – now open), Mill Creek Residential in Mineola (311 units – under construction), Mineola Properties in Mineola (315 units – under construction) and MPA Owners in Westbury (6 units – under construction). Recently, County Executive Mangano earmarked Federal funds to study the conversion of empty office space into residences in Baldwin, Lynbrook and Valley Stream.
"My administration has made it a priority to assist families, seniors, and young adults with new housing options," said County Executive Mangano. "Since taking office, my administration is helping create nearly 1,000 new housing opportunities across Nassau County. This project brings much-needed rental options for our residents while generating millions in economic benefit for our local economy, and is another example of our commitment to creating transit-oriented development."
The workforce units will be priced affordably to households earning less than 90% of the area median income. These workforce rents are generally considered equivalent to market rents in the Village. Of the 6 HOME units, 4 will be priced affordably to households earning less than 60% of area median income (AMI) and 2 will be priced affordably to households earning less than 50% of AMI.
The project received $800,000 in Federal HOME funds from Nassau County's Office of Housing and Community Development. The HOME Investment Partnerships Program is provided by the U.S. Department of Housing and Urban Development (HUD) to states and local governments to create affordable housing for families. In addition, the project received $2 million in grants from the Empire State Development Corp.
County Executive Mangano stated, "Long Island has a severe shortage of rental housing stock in comparison to other areas. My administration understands the link between housing that is affordable and a growing economy. That is why we have provided Federal dollars to assist in the construction of affordable rental units here in Nassau County."
All HOME-assisted units must meet program affordability requirements for a period of 20 years. The Town of Hempstead is the title holder for the property and a PILOT agreement (Payments in Lieu of Taxes) exists between the developers and the TOH Industrial Development Agency. The project will be monitored for the next two decades to ensure it remains an affordable housing development.