Mangano Recognizes Crown Ford Of Lynbrook For Handicapped Accessible Veteran Van Donation
Nassau County Executive Edward P. Mangano today acknowledged the corporate generosity of Crown Ford of Lynbrook for their donation of a 2012 Econoline handicap accessible 12 passenger van to the Nassau County Veterans Service Agency. The van will be used to provide transportation to veteran healthcare facilities in East Meadow, Valley Stream, the Northport VA Hospital and the Vet Center in Hicksville. There is no charge for this transportation service and appointments can be made by calling the (516) 572-6560.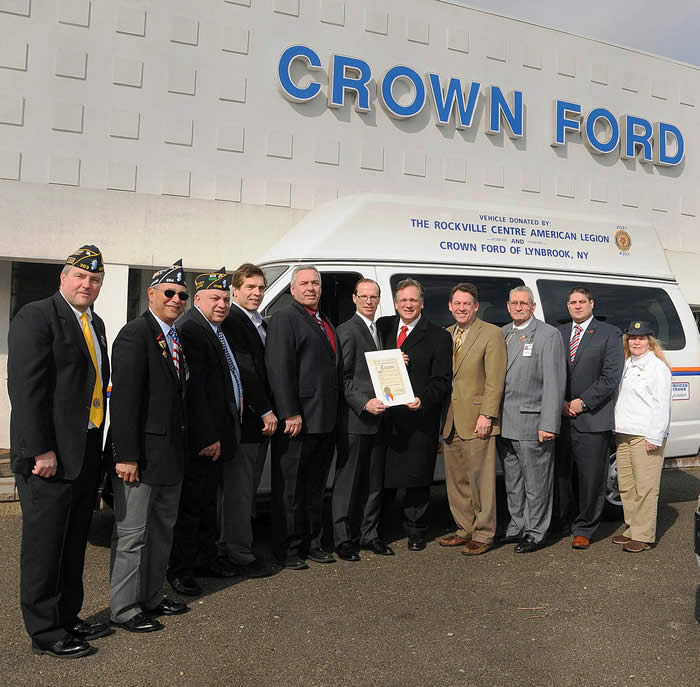 County Executive Mangano stated, "My administration is committed to serving our veterans and ensuring they have a respectful transportation, housing and job opportunities in Nassau County. I thank Crown Ford of Lynbrook for their corporate generosity as their donation recognizes our brave men and women for their service in protecting our nation."
Chris Anderson, President of Crown Ford, said he and his partner Bob Carra agreed it would be a great idea to donate the van, rather than return it or sell it, after an ordering error resulted in them having an extra handicap accessible vehicle. Anderson stated, "Crown Ford of Lynbrook is proud to support local veterans, as well as churches, temples and schools. After having donated a passenger van to Hope for the Warriors three years ago and after having met Rockville Centre American Legion Commander Joseph Scarola, this donation to the Nassau County Veterans Service Agency seemed natural. It's the perfect place for a donation and we're happy to be a part of any cause that helps local veterans."
County Executive Mangano renewed Nassau's commitment to its veteran community upon taking office in 2010. Under the direction of County Executive Mangano, Nassau County:
Hosts an Annual United Veterans Organization Memorial Day & Veterans Day Service, Gold Star Families Remembrance Service, POW/MIA Candlelight Recognition Ceremony, Korean War Veterans Memorial Service,
Provides veteran transportation, including handicapped accessible transportation, to the VA hospital in Northport and the clinic in East Meadow and the Vet Center in Hicksville.