May 9, 2011
Mangano Issues Dependency Public Health Alert On Increasing Usage Of The Narcotic Drug Opana
Nassau County Executive Edward P. Mangano and a panel of experts today issued a Chemical Dependency Public Health Alert on the increasing usage of the narcotic drug Opana to all residents, especially parents, educators and students. Opana, or generically known as Oxymorphone, is a morphine-like opioid prescribed to manage moderate to severe pain around-the-clock through either Instant Release (IR) or Extended Release (ER) tablets. Opana ER is twice as potent as OxyContin and also cheaper, with prices starting at $1 per milligram. It is important that the community be aware of its increasing usage as the Federal Centers for Disease Control and Prevention (CDC) recently reported that prescription narcotics killed more people in 2010 than cocaine and heroin combined.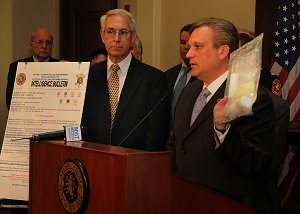 "In October of last year I issued a warning about therapid rise of the powerful narcotic OxyContin," said County Executive Mangano. "While there has been a significant decrease in OxyContin Medicaid prescriptions since last fall, prescription narcotics in general have continued to rise and OxyContin is now being replaced by another narcotic – Opana."
Reports from around our nation are giving an increasing indication that Opana is a dangerous narcotic highly susceptible to abuse and illicit trade. On April 14, 2011 the Intelligence Section of our Nassau County Police Department issued a Law Enforcement Intelligence Bulletin alerting officers to the abuse of this narcotic drug Opana. Methods of abuse include: putting the tablet in one's mouth until coating dissolves, using a damp washcloth and wiping the coating off, shaving the coating with a razor, and freezing the tablet. After the coating is either dissolved or rendered ineffective, the pill is usually crushed and snorted. An Opana overdose is characterized by respiratory depression, stupor or coma, cold and clammy skin, constricted pupils, muscle flaccidity, cardiac arrest and death.
Just two months ago the Police Chief of Newport, Tennessee announced that Opana ER was responsible for five fatal overdoses over three months. The Police Department of Louisville, Kentucky announced less than a month ago that Opana has already been linked to nine overdose deaths in Louisville and the numbers are expected to rise as toxicology reports come back on other fatal overdoses.
Jeffrey L. Reynolds, Ph.D, Executive Director of the L.I. Council on Alcoholism & Drug Dependence (LICADD) stated, "We applaud County Executive Ed Mangano for his continued commitment to protect the residents of Nassau County. Opana misuse and diversion is taking-off and this dangerous painkiller has become the drug of choice for those struggling with opiate addiction. It's more potent than OxyContin and lacks the tamper-proof mechanisms that have begun to limit the abuse of other painkillers. Awareness is absolutely key if we are to address the national epidemic of prescription abuse that's hit Nassau County hard."
Thanks to the analytical work being performed by the Investigations Unit of the Department of Social Services (DSS), Nassau County is witnessing the emergence of Opana as a chemical dependency public health hazard.
"Accordingly since I believe it is the responsibility of government to alert the public when matters of potential and actual health concerns come to our attention, I am issuing a Chemical Dependency Public Health Alert regarding the abuse of Opana," said County Executive Mangano. "We are deeply concerned at the rapid rise of Opana ER prescriptions. Between August 2010 and February 2011, Nassau County has seen a 43% decrease in Medicaid prescriptions for OxyContin which includes a 57% decrease in OxyContin 80mg.
While this is promising, our investigators have detected an alarming new trend in the extended release pain drug Opana ER.From August 2010 to February 2011 Medicaid prescriptions for Opana ER have increased 45%. Since 2008,Opana ER has increased 1000% from 40 prescriptions written in 2008 to 440 written in 2010. The statistics so far suggest that Opana prescriptions in 2011 will be double that of 2010. Nassau County Medicaid expenditures for Opana ER have increased explosively in the past few years, from $1,900 in 2007 to $233,000 in 2010 with projected expenditures of close to $500,000 in 2011."
According to DSS Director of Investigations Scott Skrynecki, "The Nassau County Department of Social Services has initiated a number of efforts to stem the tide of this rising prescription drug usage and we have initiated a Prescription Drug Fraud Outreach program to every pharmacy in Nassau County including establishment of a tip hotline - 877-711-TIPS (8477) - for suspicious prescriptions."
"I would like to thank County Executive Mangano for taking the lead in raising awareness about the significant increase in the use of the drug Opana, and how the abuse of that substance can have addictive and potentially fatal consequences," said Dr. James Dolan, Acting Commissioner of the Nassau County Department of Mental Health, Chemical Dependency and Developmental Disability Services.

Public education is vital in stemming the tide of prescription drug misuse, especially for Opana and OxyContin. The Nassau County Department of Mental Health, Chemical Dependency and Developmental Disability Services (516-227-7002), the Long Island Council on Alcoholism and Drug Dependency (LICADD –516-747-2606) and the North Shore – Long Island Jewish's Drug Treatment and Education Center (516-562 -3010) are among the major agencies will provide speakers for public education forums on prescription drug misuse, and specifically on Opana.