October 24, 2011
Mangano Meets With NYS Medicaid Inspector General
To Discuss Crackdown On Waste, Fraud & Abuse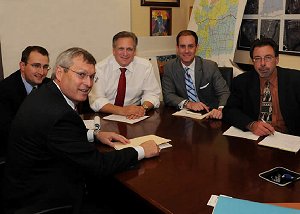 Nassau County Executive Edward P. Mangano today met with Acting Medicaid Inspector General James C. Cox to discuss the success of Nassau County investigations into Medicaid waste, fraud and abuse. The Nassau County Department of Social Services Office of Investigations continues to investigate individuals and providers attempting to defraud Nassau County taxpayers, most recently discovering elaborate schemes to cheat the system out of hundreds of thousands of dollars.
"Attempts to defraud the hardworking residents of our County will not be tolerated," stated County Executive Mangano. "There is no excuse for fraud and we in Nassau County will continue to protect taxpayers by rooting out those individuals who are not entitled to benefits or payments. Be forewarned. The State and County are working together and will catch you if you're cheating taxpayers and defrauding the system."
To report questionable practices in programs such as Medicaid, Day Care, Food Stamps, Public Assistance and Family Health Plus, call 1-877-711-TIPS (8477). All calls are completely confidential and callers can remain anonymous.