Abrahams Attacks Mangano's "Out-of-Touch" Budget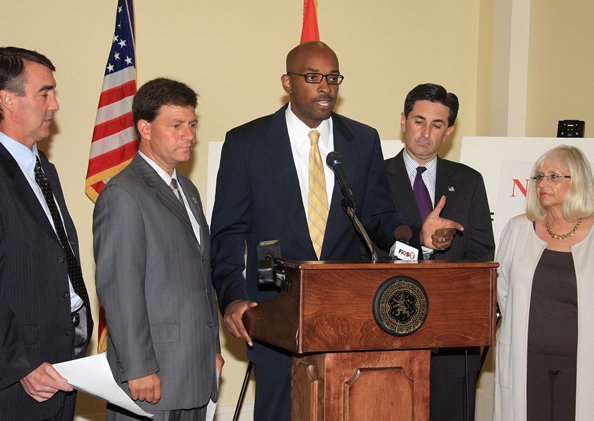 During a press conference last week, the Democratic Caucus of the Nassau County Legislature gave their initial review of County Executive Mangano's proposed 2012 budget. The Democratic Legislators voiced strong criticism of Mangano's document and they maintained that the proposed budget fails to reflect economic reality. Last year's budget was also unrealistic and loaded with wishful thinking, high expectations, and pure fantasy. The Democratic Legislators stressed that the County Executive's budget puts public safety at risk, depends too much on assistance from the state legislature and fails to provide any meaningful relief for our struggling taxpayers.
Deputy Minority Leader Kevan Abrahams (D-Hempstead) said, "Of course the Republicans will tell you that they are not raising taxes, however the current administration with the support of the Republican legislative majority has increased County fees by over $50 million which is the equivalent of a 7 percent tax increase! They have also given tens of millions in lucrative contracts to their politically connected lawyer and engineer friends."
Legislator Judy Jacobs (D-Woodbury) commented, "It's a disgrace that the Mangano administration continues to bury its head in the sand. There isn't one realistic revenue expectation in his budget. What makes Mr. Mangano think that this document will convince NIFA board members and Wall Street bond rating agencies that this is a balanced budget? As Presiding Officer, I worked very hard to help the County earn 13 consecutive bond rating upgrades. Working with the prior administration, we Democratic legislators helped to develop realistic and innovative solutions to financial challenges. Mr. Mangano is un-doing all of our hard work."
Legislator Dave Denenberg said, "This budget relies too heavily on one-shot solutions, speculative revenue and highly unlikely cost savings. Our residents can't afford $60 million in Republican fee increases and their wasteful spending on sweetheart contracts to politically connected insiders."
Legislator Wayne Wink (D-Roslyn said, "In a futile effort to balance the 2012 budget, the Mangano Administration is attempting to conduct a fire sale of many of the essential services the county provides. The subsidy for Long Island Bus has been lowered from $9 million dollars to $2.5 million dollars. The contract with Veolia, which was expected in July, is still not in place and the company is now backing away from promises to maintain services and fares in 2012. In addition, the Administration is proposing to sell off or lease the County sewer system. This plan will never achieve the revenue they claim and likely can't be done within 2012. Additionally, there is the potential to put our residents and local environment at risk. Clearly the County Executive is grasping at straws with this proposed budget."