Legislator Abrahams Congratulates Robert Bruin, Eagle Scout
Nassau County Legislator Kevan Abrahams (D-Hempstead) proudly honored Robert Bruin of Roosevelt, a Boy Scout with Hempstead Troop 300. Robert achieved the Boy Scouts of America prestigious rank of Eagle Scout recently. He is the second Eagle Scout of Troop 300, "Hempstead's Best" Troop.
Legislator Abrahams said, "Robert is a determined, hard worker who says quitting is never an option. To achieve the rank of Eagle, Robert coordinated Scouts, adult volunteers, and the proprietors of local businesses to build a new lounge area at Centennial Elementary School. I am proud to present Eagle Scout Robert Bruin with a Nassau County Legislature Citation in recognition of his tenaciousness and commitment to the Scouting Program and, most important, to himself. I know he will continue to achieve his goals and make all of us proud."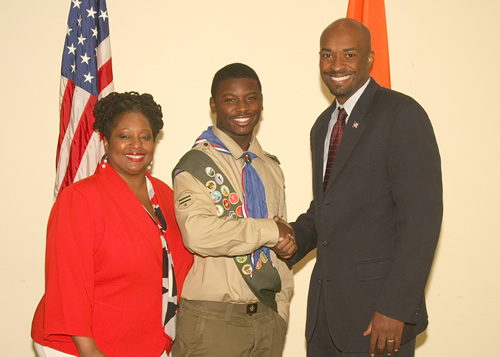 Beverly Bruin, Eagle Scout Robert Bruin and County Legislator Kevan Abrahams are pictured at the Nassau County Legislature.