Legislator Abrahams: "The Violence Must End"
Nassau County Legislator Kevan Abrahams (D-Hempstead) led a group of fellow legislators, civic leaders, members of the clergy, representatives from community groups and concerned residents in Roosevelt yesterday to decry racial violence on Long Island. The gathering was held across the street from the deli where a black man was beaten last week allegedly by a group of Hispanic men shouting racial slurs. Legislator Abrahams, who is committed to unifying the community, said the Roosevelt beating was an example of the racial tensions that must end throughout Long Island.
"We are one community," he said. "Wrong is wrong. It doesn't matter your race, creed, color, or gender. We need to show our young people that we are not divided. We will stand up for those who have been hurt. I believe that if we come together, we can overcome all obstacles."
Legislator Abrahams encouraged everyone to attend an upcoming forum at the Tabernacle of Joy Church, 1070 Brookside Ave. in Uniondale on Thursday, March 19 at 7 p.m. It will include a panel discussion. All are welcome and encouraged to voice their concerns regarding violence.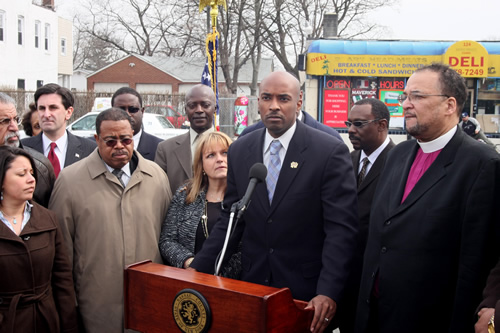 Nassau County Legislator Kevan Abrahams led a press conference to decry racial violence on Long Island. He was joined by residents as well as Nassau County Presiding Officer Diane Yatauro, George Siberon, Legislator Wink, Reverend Reginald Tuggle,
Dan Russell, Bishop J. Raymond Mackey, and Rodney Brown.