ACORN Gives Free Help to Ease the Stress on Struggling Families
Each year billions of dollars in emergency assistance monies are left unclaimed by qualified individuals and families.
Legislator Abrahams Encourages Residents To Utilize ACORN's Free Tax Site
Nassau County Legislator Kevan Abrahams (D-Hempstead), second from left, hosted a press conference to announce the opening of the ACORN free tax site. Joining him were, from left, Don Ryan, a trustee from the Village of Hempstead; Joe Lewis Brown; Atlanta Cockrell; and Rosaleea Brown from ACORN (see below for details).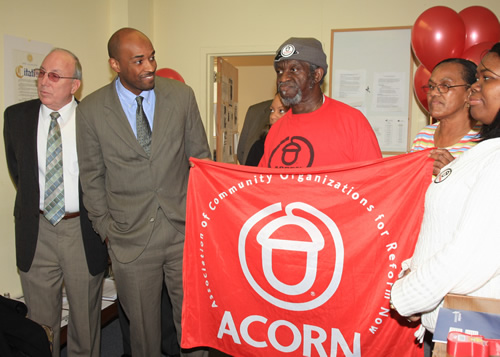 Nassau County Legislature Kevan Abrahams (D-Hempstead) hosted the opening of ACORN's free tax site at 91 Franklin St in Hempstead recently and encouraged residents to utilize the services offered. ACORN, the Association of Community Organizations for Reform Now, is a community-based organization that advocates for low- and moderate-income families.
"I encourage low- and moderate-income taxpayers to claim their Earned Income Tax Credit," he said. "By going to ACORN they can avoid paying exorbitant fees and high-cost Refund Anticipation Loans. Each year billions of dollars in emergency assistance monies are left unclaimed by qualified individuals and families. ACORN will help people get what is coming to them."
ACORN Center tax preparation specialists speak English and Spanish and appointments are recommended but not required.
What to bring to the ACORN office to receive free tax filing:
• Government-issued picture ID
• Social Security card
• Dates of birth of all family members you are claiming
• Form W2 for all jobs held in 2008 and any other tax-related documents
• Form 1099-INT if you collected interest from a bank account in 2008
• Documentation of any child care expenses, including the child care agency's ID number or the Social Security number of the provider
• Your spouse, if you are married and filing jointly
• A voided check or deposit slip for direct deposit of your refund
"I hope people will flood the ACORN office," Legislator Abrahams said. "Filing doesn't have to be confusing or stressful. And in these difficult economic times everyone needs their tax return as soon as possible."