March 20, 2006
Abrahams and Majority legislators call for residency restrictions for all levels of registered sex offenders
Law would prohibit residency within 1000 ft. of schools, 500 ft. from parks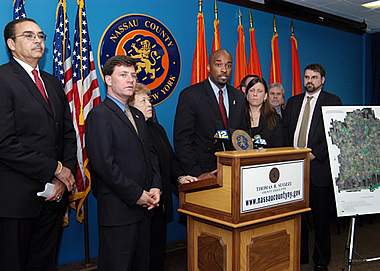 Nassau County Legislator Kevan Abrahams (D-Hempstead) and fellow members of the Public Safety Committee today approved a law restricting registered sex offenders from living near schools and parks or playgrounds. The proposed law, which still requires approval by the full legislature, would give Nassau County one of the strictest sex offender laws on the books in the entire state.
"This law will ensure that the county's vulnerable children are not victimized by repeat sex offenders," said Legislator Abrahams, sponsor of the law. "Up until now registered sex offenders could be released from jail and move right next to a school or park, even if their original crime was committed at a similar site."
Legislator Abrahams said he was particularly disturbed by a recent report that a registered sex offender had moved next door to a middle school in his district.
The proposed law will require any registered Level I, II or III sex offender to be prohibited from living within 1000 feet from the entrances of a school or 500 feet from the perimeter of a county, town, village or city-run public park which contains a playground. The law will not apply to those offenders who have established a residence prior to April 15, 2006.
"Residency restriction laws are a natural extension of Megan's Law. While these laws won't eliminate child sexual abuse, they will certainly reduce the potential for sexual victimization by restricting a sex offender's access to possible child victims," said Laura Ahearn, Executive Director of Parents for Megan's Law.
"Nassau County will now have one of the toughest laws on the books relating to sex offenders," stated Legislator Joseph Scannell (D-Baldwin), chairman of the Public Safety Committee.
"This law will serve as an excellent companion law to Megan's Law," said Presiding Officer Judy Jacobs (Woodbury), "as it addresses gaps in the state statute that allows offenders to move dangerously close to areas where children are regularly found in large numbers."
"With the focus on schools and parks, this proposed law is about protecting children," said Commissioner of Police James H. Lawrence. "We will continue to do everything possible to ensure the safety of our most vulnerable residents."
The law allows offenders 60 days to move after they have been notified. Any violation is punishable by a fine up to $1,000 and possible jail time.