September 15, 2006
Abrahams Honors Mystery 9/11 Rescuer
His character portrayed in new World Trade Center Movie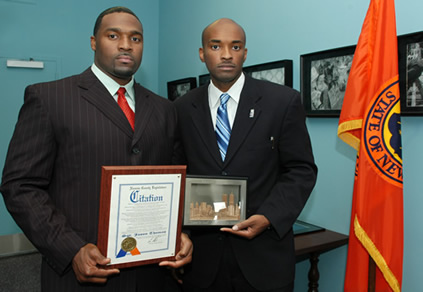 PHOTO CAPTION:
Marine Sgt. Jason Thomas, left, and Legislator Kevan Abrahams (D-Hempstead), right, are pictured holding a 9/11 plaque and citation presented at a ceremony honoring Sgt. Thomas for his heroic action on September 11, 2001.
Nassau County Legislator Kevan Abrahams (D-Hempstead), joined by his fellow legislators, this week honored a former Marine sergeant who displayed amazing heroic action at the World Trade Center on September 11th, 2001 and helped find a pair of Port Authority officers buried in the rubble. Mr. Thomas continued to work at the 9/11 site for two and a half weeks.
Shortly after his valiant efforts the mysterious Marine vanished--until now. Jason Thomas, 32, formerly of Uniondale, has finally come forward and taken credit for his bravery and heroism. Mr. Thomas, who now lives with his wife and five children in Columbus Ohio and works as an officer in Ohio's Supreme Court, is also portrayed in the new movie "World Trade Center," which was released this summer. Mr. Thomas' character helps save the Port Authority officers played by actors Nicolas Cage and Michael Pena.
In addition, Just for You Limos in Hempstead and driver Anthony Mack of Hempstead generously donated their services to pick up Mr. Thomas and his family from the airport.
Legislator Abrahams, who was a schoolmate of Mr. Thomas at Uniondale High School, was very pleased to honor him for his valor and self-sacrifice. "Jason's actions right after the World Trade Center attacks were truly courageous and he deserves to be honored here today," Legislator Abrahams said. "Several people are alive today because of Jason's selflessness, great courage and quick response."