Abrahams announces creation of a new, reflective park in Uniondale to honor Dr. Martin Luther King, Jr.
Park will be called the MLK Memorial Peace Park
Nassau County Legislator Kevan Abrahams (D-Hempstead), joined by Nassau County Executive Thomas R. Suozzi, announced today the design plans for the Dr. Martin Luther King, Jr. Memorial Peace Park in Uniondale. The park will replace a corner once occupied by an abandoned gas station and recently cluttered with concrete slabs, old sidewalks and discarded drywall.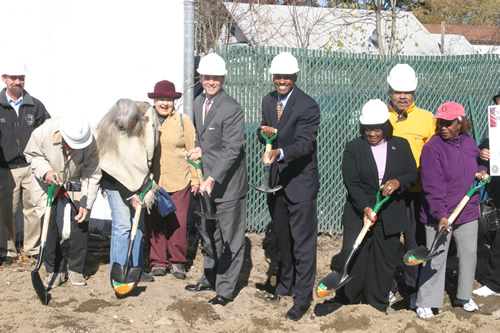 "Dr. King's message was one of tolerance and understanding, and this park will represent that message by providing our residents with a peaceful environment that will serve as a beacon for the community," Abrahams said.
Plans for the new park, located at the intersection of Uniondale Avenue and Nassau Road and designed by the Nassau County Department of Public Works, include a bust of Dr. King on top of an elevated circular section of the plaza. Behind the bust will be three flowering dogwood trees, the state tree of Dr. King's native Georgia. In addition, a line of emerald arborvitae will be placed along the north side of the site, giving a full, green backdrop for the park. A stone walkway will also feature several of King's well-known quotes.
"We're pleased that this park is being established to honor the memory and work of Dr. Martin Luther King, Jr.," Suozzi said. "And we hope that it will in some small way foster his goal of achieving equal rights and tolerance for everyone."
The park will be partially enclosed with a black aluminum fence to protect the plantings from pedestrians cutting through the space and will add a sense of enclosure to the park. Signage will be incorporated with the fence.
A street clock and flagpole are also incorporated into the sign, with the clock located towards the south corner of the plaza so it may be viewed from outside the park, as well as inside. The flagpole will be placed at the northwest corner of the park.
Funding for the $120,000 project comes from Abrahams' Community Revitalization Project funds. Demolition on the site started this week and should be completed by Dr. King's birthday, January 15, when a ribbon-cutting ceremony and celebration is planned.