Legislator Kevan Abrahams Honors Joanna Bell-Richards
Nassau County Legislature's 2011 Trailblazer of the New Millennium

Nassau County Legislator Kevan Abrahams (D-Hempstead) is pictured with Joanna Bell-Richards of
Uniondale, the 2011 Nassau County Legislature Trailblazer of the New Millennium. Ms. Bell-Richards was joined by
her proud family at the Legislature's chambers for a ceremony honoring her achievements.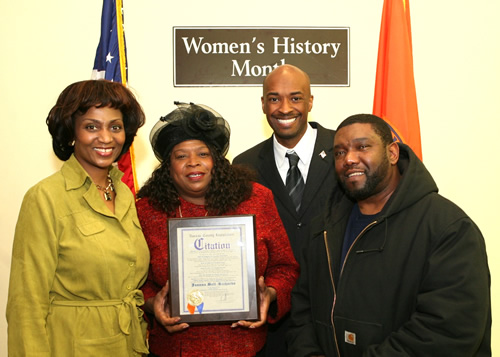 Johanna Bell-Richards is the founder of Harvest for the World, Inc., and is responsible for a new awakening of human and social services in the hamlet of Roosevelt and its surrounding communities. As executive director, she has implemented a variety of programs enhancing the quality of life for our community residents. Ms. Bell-Richards and her board of directors launched a grassroots effort to eradicate hunger and give underprivileged people a leg to stand on.
Joanna is a product of Roosevelt's society. She went to school there, and was a single parent in search of the services that harvest for the World now provides. At one point in her life, she found herself homeless with a child and still holding down a job while juggling baby sitters. Positive people came to her aid, for which she is eternally grateful while reciprocating positivity every day. Joanna's human compassion was nurtured by her experiences throughout her professional and educational career. She is a familiar sight in the Town of Hempstead municipal building where she has received numerous accolades for her tireless efforts on behalf of her community.