Legislator Abrahams Honors Rohan Wray, Uniondale Hero
Nassau County Legislator Kevan Abrahams (D-Hempstead) recently presented Rohan Wray, a Uniondale resident, with County honors for his heroic efforts to save two lives. Earlier this month, Mr. Wray was driving past a house on Southern Parkway in Uniondale and saw smoke billowing out a window on the second floor. He immediately went into action, kicked in the door, looked through a window and saw a child in the home. Having rescued the child, he ran back into the burning home and rescued the child's grandfather, who is blind.
Legislator Abrahams said, "Mr. Wray is a true hero. It takes a special person to risk his life to try and save someone else's. It's people like him that make our community the special place that it is."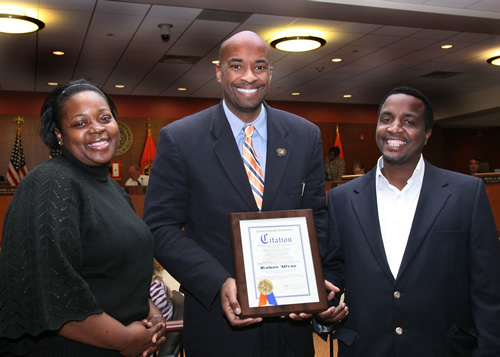 Nassau County Legislator Kevan Abrahams is pictured with Rohan Wray and Pastor Shenna Butler of God Sent Deliverance Ministries.