"New ShotSpotter Gunshot Locator Will Save Lives," Says Legislator Abrahams
Nassau County Legislator Kevan Abrahams (D-Hempstead) joined Nassau County Executive Tom Suozzi, Police Commissioner Lawrence W. Mulvey, and others at a press conference and live demonstration of the Nassau County Police Department's newly implemented ShotSpotter Gunshot Detection and Location system. Utilizing sophisticated technology, the device accurately detects, pinpoints, and alerts the police to the locations of gunfire. Additionally, it records the number of shots fired, whether the shooter was stationary or moving, and essentially plays back the gunshot event.
"With ShotSpotter technology police will know where the shooting occurred and whether it came from the front or side of a building," Legislator Abrahams explained. "This will help the officers respond faster to apprehend suspects and give them the information they need to search for evidence, question witnesses and when there is a victim, ensure that medical attention is received quickly. I am encouraged by its effectiveness from data in other cities where it's already used showing that gunfire rates have been reduced by nearly 60 to 80 percent and violent crime by up to 40 percent. It is my deepest hope that just knowing that ShotSpotter is out there will be a deterrent to using guns, and that it will also help remove illegal guns from the streets, homes, and lives of everyone in our neighborhoods and make a safer environment for our children and their families."
ShotSpotter is currently being used in Roosevelt and Uniondale and there are plans to expand the program to other areas in future.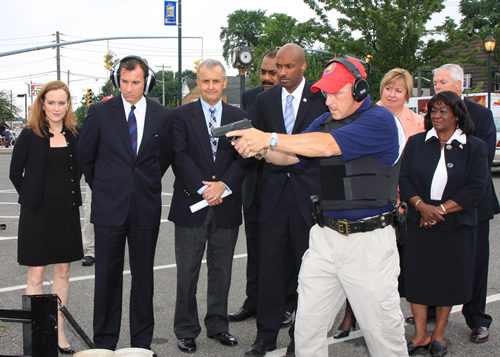 Nassau County Legislator Kevan Abrahams (D-Hempstead), fourth from left, watches a demonstration of the new
ShotSpotter Gunshot Location System. The device accurately detects, pinpoints, and alerts police responders to the locations of gunfire.