Abrahams to Mangano:
"Step Up and Stop the MTA Cuts!"
State Your Opinion: Public Hearing March 23, 3 p.m. at Hofstra
During a press conference held on March 7, 2011 at the Rosa Parks Transit Center in Hempstead, Nassau County Legislator Kevan Abrahams (D-Hempstead) called upon County Executive Mangano to "step up and keep the buses rolling!" Legislator Abrahams was joined by bus riders; Kate Slevin, executive director of the Tri-State Transportation Campaign; Hempstead Village Mayor Wayne Hall; Hempstead Town Councilwoman Dorothy Goosby; Ryan Lynch, the Transportation Campaign's senior planner; representatives from the Nassau County EOC and the NY Communities for Change; and Eric Alexander, the executive director of Vision Long Island. At issue is the proposed elimination of numerous Long Island Bus routes, including two critical ones in Legislator Abrahams' legislative district: one through Roosevelt and Uniondale; the other through Hempstead and South Hempstead. The routes have stops at Nassau Community College, Hofstra University, Winthrop Hospital and major shopping areas.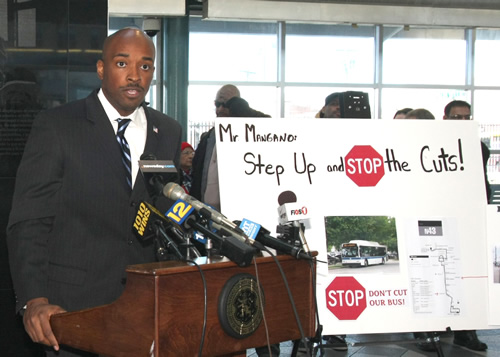 Legislator Abrahams said, "Many of our residents depend upon bus transportation to conduct their daily routine. Bus transportation is the only choice they have. We must not abandon all the people who ride the bus to get to work, to school, to their medical appointments or to any other activity. The County Executive failed to secure state funds or to find a viable solution to keep the buses running. His idea to privatize Long Island Bus is one that will surely make it more expensive for people who use the bus, most of whom can't afford a car which is why they are on the bus!" Hempstead Village Mayor Wayne Hall added, "The Village of Hempstead can not survive without bus service. Our residents, more than many other municipalities, rely primarily on public transportation for our commuting needs. Our buses are our lifeline."
The proposed elimination of bus routes will further destroy the county's Able-Ride bus transportation for residents who are disabled.
"Less than one year ago, Able-Ride service, which is provided only in areas where there is a Long Island Bus route, suffered harsh cutbacks. The proposed elimination of even more bus routes will make it practically impossible for our physically and mentally challenged residents to lead productive lives. The County Executive must step up and stop the cuts that hurt our most vulnerable residents," stated Legislator Abrahams.
Eric Alexander, the executive director of Vision Long Island, said, "We ask that all parties, advocacy groups, the State, the County and the MTA, come forward and help find a solution that benefits our hard-working people who use the bus."
Legislator Abrahams urged everyone to attend the MTA public hearing regarding the elimination of the bus routes on March 23, 3 p.m., in the Hofstra University Adams Playhouse.