Legislator Abrahams and Democratic Caucus:
"Mangano is Playing Politics with Kids!!!"
Nassau County Legislator Kevan Abrahams (D-Hempstead) and the Legislature's Democratic Caucus today held a press conference to express their outrage at County Executive Mangano's recent politically driven cuts to Youth Board funding. The Mangano administration mailed a letter dated March 29th to Youth Board agencies which outlined specific cuts to take effect on April 1st. This gave Youth Agency directors a mere 48 hours to notify community residents and their children that certain programs would be eliminated or curtailed.
Legislator Abrahams said, "I am deeply troubled by the inequities contained in Mangano's cuts. The cuts hid hardest on communities that are within legislative districts represented by Democrats. Anyone who looks at the list of cuts can easily determine that these budgetary reductions were politically motivated. I am disgusted that Mr. Mangano would use children in an attempt to undermine Democratic elected officials."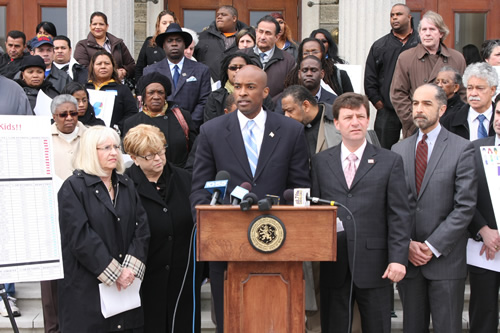 Minority Leader Diane Yatauro (D-Glen Cove) added, "The fact that Mr. Mangano is willing to make political this vital funding which helps our young people is absolutely shameful. He should save the political games for the fall campaign and not make our children pay for his own failure to produce a balanced budget."
Legislator Wayne Wink, (D-Roslyn) said, "Youth agencies rightfully panicked last week when they were given 2 days notice of draconian program cuts, some as much as 100%. Within a day, the County Executive withdrew the cuts temporarily. This puts our children in the middle of a political tug-of-war. This kind of gamesmanship is unconscionable."
The Democratic Caucus believes these proposed cuts may violate the County Red Light Camera law. That law, which Ed Mangano voted for as a legislator, stipulates that all revenue generated from violators shall be placed in a Special Revenue Fund to be used to fund various social service agencies including Youth Board agencies. To comply with the law, for 2011 the funding of the Youth Board
agencies must be maintained at $6,250,940 and not cut by $1.1 million as Mangano is threatening.
Legislator Dave Denenberg (D-Merrick) said, "Under Nassau County Law, it's illegal not to use Red Light Camera funds for these programs and, under federal law, its illegal to discriminate by race, religion and/or political affiliation. This is clearly discrimination based on race and party affiliation."
Legislator Judy Jacobs (D-Woodbury) said, "I have been a Legislator for 16 years; have served with CE Tom Gulotta, CE Tom Suozzi and now with CE Edward Mangano. I have never seen such an outright political division created on any issue, much less on our youth board which impacts our most vulnerable population. This is truly a first in the history of this County and certainly not a "first" to be proud of."

Legislator Robert Troiano added, "A child's access to services shouldn't be based on his zip code. Organizations located in predominantly Democratic zip codes have received written notices of funding cuts of up to as much as 100%, while programs based in Republican dominated zip codes were left comparatively unscathed," said Legislator Troiano. "The Constitution prohibits discrimination on the basis of race, creed or color. Now it has to be amended to include zip codes!"
The Democratic Caucus believes that possible remedies for Youth Agency funding could include Mangano applying his $2 million mail budget as well as some of the multi-millions he has awarded to politically connected law firms for outside legal counsel to fund these agencies.