If You Can Read This, Help Someone Who Can't
Legislator Abrahams Asks Residents to Become Literacy Tutors
Legislator Kevan Abrahams (D-Hempstead) invites residents interested in helping to enhance the lives of others to sign up as a volunteer for Literacy Nassau, a volunteer tutoring service that is free for adults in Nassau County who seek to improve their reading, writing, or English speaking skills.
"Nearly 20% of Nassau County residents struggle with low literacy and daily activities many of us take for granted such as reading dosage instructions on prescriptions, completing job applications or having a conversation with their child's teacher," said Legislator Abrahams. "Through personalized instruction, volunteers help adult learners achieve their goals, assisting their students toward self-sufficiency and personal success."
Legislator Abrahams noted that finding quality volunteers is the number one challenge faced by Literacy Nassau. Several hundred adults are waiting to be matched with a tutor.
"The uniqueness of Literacy Nassau's program model is the learner-centered approach tutors take with students," he said. "Students meet with their tutors at local facilities, such as libraries, for one-on-one or small group sessions, in an effort to provide the best quality of tutorship possible."
Tutors are trained and certified by Literacy Nassau. Training is provided through 15-hour workshops, split into either five three-hour sessions or three five-hour sessions. Workshops are held at various locations and times throughout the year. Volunteers are asked to pay a materials fee of $35 for textbooks provided by Literacy Nassau.
"Perhaps you, or somebody you know, have been contemplating undertaking a new adventure through work as a volunteer," Legislator Abrahams said. "Why not help a great cause, which will not only build the self-esteem and skill level of another human being, but will also provide you with a great satisfaction, knowing that you helped better the life of a person in need?"
For more information about Literacy Nassau or to sign up to become a volunteer, visit www.literacynassau.org, or call their offices at 516-486-2789.
"For 40 years, Literacy Nassau has been committed to promoting and fostering literacy among adult learners in need of improved skills," Legislator Abrahams said. "Through trained volunteer tutors in one-to-one and small group learning experiences, students are matched with tutors to achieve the educational, economic and social goals they and their tutors have identified as important to them. I am proud to support the efforts of this organization."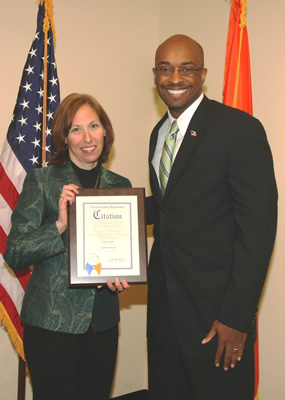 Legislator Kevan Abrahams (D-Hempstead) is pictured presenting a citation to Tina Sanacore, the executive director of Literacy Nassau.