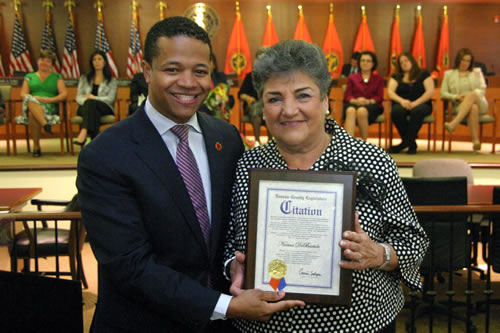 Shown here with Legis. Solages is honoree Norma DeBartolo
County Legislator Honors Elmont Resident for Women's History Month
Legis. Carrié Solages was proud to recognize Norma DeBartolo as the 3rd District's 'Trailblazer' for 2012
Nassau County Legislator Carrié Solages (D-Elmont) honored Norma DeBartolo, who has worked in the Elmont School District for 29 years, as part of Women's History Month. The 14th Annual Trailblazers Awards Ceremony was held at the Legislative Chamber in Mineola on Monday, March 19, 2012.
"She has committed countless acts of selflessness in order to help others reach the American Dream through education and hard work," said Legis. Solages.
DeBartolo is a member of the Rotary Club, Chamber of Commerce, American Legion and several other civic organizations. She has helped organize several parades, and is a fixture at many civic meetings "with her fingers on the pulse of the community," according to the legislator.
Additionally, DeBartolo is responsible for helping community leaders organize the HAFALI ( Haitian American Families of Long Island), among many other accomplishments.
"She is an asset to the Elmont community and will be missed when she transitions to her new out-of-state address to join her family in New Jersey," continued Legis. Solages. "She has made an educational opportunity for so many a reality. We cannot thank her enough for what she has done for our community."