February 23, 2011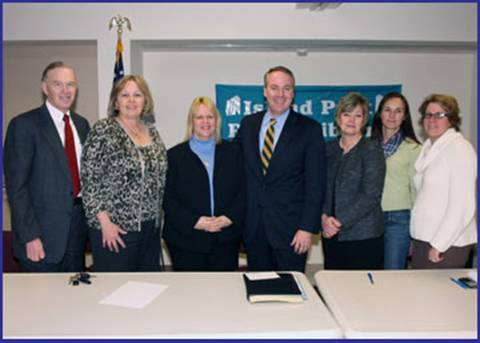 Legislator Ford Attends Island Park Civic Association Meeting
Nassau County Legislator Denise Ford was invited by Island Park Civic Association President Susan Fazel to address concerns effecting Island Park. Along with Legislator Ford, Legislator Howard Kopel and Town of Hempstead Receiver of Taxes, Don Clavin were also present to answer questions.
At the Island Park Library, the three officials responded to many issues such as, repeal of the county guarantee, the assessment process, and the Barret Power Plant reassessment. "I am always happy to listen and answer as many questions as I can, and I pledge to come whenever invited", said Ford.
Pictured: L to R, Legislator Kopel, Legislator Ford, Susan Fazel, President, IP Civic Association, Don Clavin, Town of Hempstead Receiver of Taxes, Anne Egan, IP Civic Association secretary, Elizabeth Abuin, Treasurer, and Laura Hassett, VP Island Park Civic Association.