March 15, 2010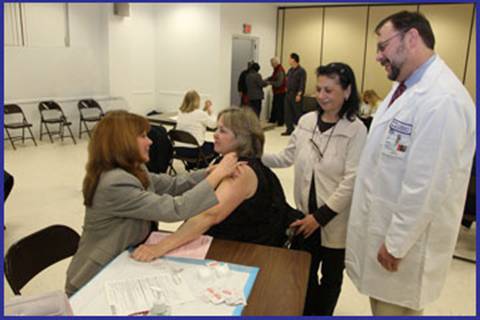 Legislator Ford Hosts H1N1 Flu Shot Distribution in Long Beach
Nassau County Legislator Denise Ford and New York State Assemblyman Harvey Weisenberg recently hosted an H1N1 Flu Shot Distribution at the Long Beach Senior Center.
The H1N1 Flu Shot Distribution was sponsored by the Nassau County Department of Health in partnership with Nassau University Medical Center and all shots were administered by nurses from Nassau University Medical Center.
Legislator Ford joined with almost one hundred residents who attended to receive their H1N1 Flu vaccinations.
Pictured with Legislator Ford; seated; Karen Dudek RN, Nurse Manager of Nu Health @ NUMC; Josie Matier, Representing Harvey Weisenberg; and Dr.Albert Hauser of Nu Health @ NUMC.