March 22, 2012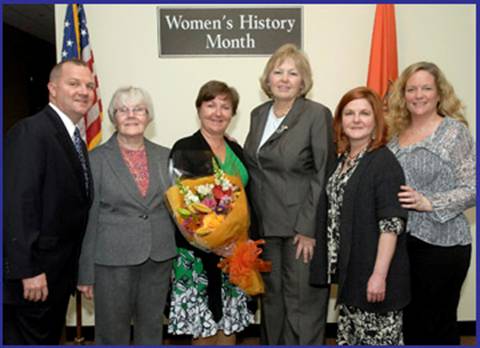 Legislator Ford Honors Bernadette Martin at
2012 "Women's History Month 14th Annual Awards Ceremony"
The Nassau County Legislature recently took the time out to honor Women's History Month with the 14th Annual "Women Trailblazers" Award Ceremony and Celebration. Legislator Denise Ford chose to honor Bernadette Martin from her District.
"I had the privilege to honor Ms. Bernadette Martin as my Trailblazer." said Ford.
Bernadette is the Director of Friends & Farmers Inc., which organizes and manages 6 LI Greenmarkets. The markets bring fresh, healthy and local produce to Long Island residents and helps to preserve farmland by providing direct marketing from farmer to consumer.
Bernadette is a former Farm Inspector for the New York City Greenmarket and has worked as a Horticultural Therapist at Green Chimneys Children's Services in Brewster, NY.
Growing up in Island Park she became interested in the family's vegetable plot at an early age and began tending the garden. While attending the Nassau Tech Horticulture Program during high school in Old Westbury, she became a Future Farmer of America.
Following her passion through college working as a floral designer she received a Degree in Political Science from the State University of New York, Plattsburgh.
In 2008, Bernadette came back to the South Shore and created the Kennedy Plaza Farmer's Market and an organic garden program at the NIKE Alternative High School.
She happily resides in the City of Long Beach.
Pictured left to right: Honoree's brother Patrick Martin; her mom, Mary Martin; Honoree Bernadette Martin; Legislator Ford; honoree's sister Ellen Coleman and longtime friend Beth Murphy.