March 24, 2010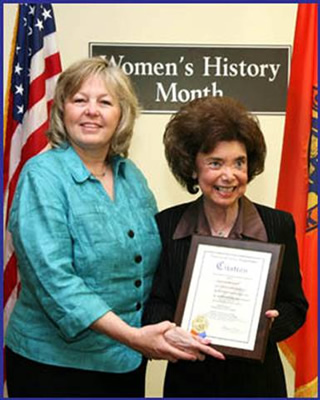 Legislator Ford Honors Stephanie Joyce Kahn as "Women: Trailblazer in the New Millennium"
On Monday March 22rd, The Nassau County Legislature took the time out to honor Women's History Month with the 12th Annual "Women Trailblazers in the New Millennium" Award Ceremony and Celebration. Legislator Ford chose to honor Stephanie Joyce Kahn from her District.
Stephanie Joyce Kahn is no stranger to Long Island where she has been a resident since 1955. Stephanie has always been active in the community even as early as her High School years as a Varsity Cheerleader, and playing major roles in all of the annual musical productions.
Unfortunately, in 1972, Stephanie was nearly killed in an automobile accident. A series of 16 operations saved her life, but her sight was gone forever. During her initial six and a half months in the hospital, Stephanie was introduced to talking books for the blind, which became a major source of diversion from her pain.
Stephanie soon learned that other patients, who were sighted, did not have the same privilege though they were suffering from pain, stress, anxiety, depression and isolation. Saddened by the inequity of the recordings not being available to these other patients, she took steps to right the situation as soon as possible.
In 1976, the SJK Foundation was created to allow her to pursue "her dream" to expand the existing program for the blind, to now include SIGHTED, seriously ill individuals. She then requested a meeting in Washington with the Director of the Library of Congress, Talking Books Division, and received their full cooperation. Now individuals of all ages, including children confined to Pediatric Units; patients in Coronary Care; Stroke Rehabilitation; Burn Care and ICU Units; the frail elderly in Nursing Homes; developmentally disabled adults and Children with Special Needs, were all eligible to benefit from the therapeutic diversion of the SJK Listening Therapy programs.
Stephanie never stopped giving back to the community, even while spearheading the Foundation in its infancy, she volunteered as a motivational speaker, for elementary, and secondary schools and numerous Universities and civic groups.
During the past 34 years Stephanie's efforts, have helped to bring Long Island to the attention of the general public, the New York State Legislature and the NY Governor's Office. President Ronald Reagan personally presented her the President's Volunteer Action Award.
Stephanie is the full time Volunteer Director of the SJK Foundation with its home base always in Long Beach. Today SJK serves over 6000 persons per month in 60 individual programs in participating hospitals and nursing homes, extended care facilities as well as their service to the homebound, Special Needs adults and autistic children. The SJK Listening Therapy Program has served over 3 million recipients since its inception all Free of Charge to the recipient.
Pictured: Legislator Ford and Honoree Stephanie Joyce Kahn