March 30, 2011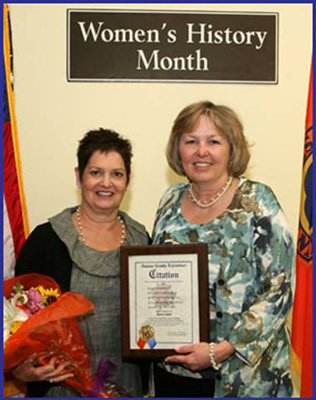 Legislator Ford Honors Susan Russo as

2011 "Women: Trailblazer in the New Millennium"
The Nassau County Legislature recently took the time out to honor Women's History Month with the 13th Annual "Women Trailblazers in the New Millennium" Award Ceremony and Celebration. Legislator Ford chose to honor Susan Russo from her District.
"I had the privilege to honor Mrs. Susan Russo, President of the Theresa Alessandra Russo Foundation. A somber story that ends up bringing much happiness to children with special needs and their families", said Ford.
Theresa Russo, daughter of Susan and Vincent Russo was born in 1986 with Cerebral Palsy along with micro cephalic which in Latin means small brain. This is an extremely debilitating disease with a very limited life span; but for the caring of her family and friends Theresa survived 5 loving years until her passing in 1991.
Upon Theresa's passing Susan and Vincent Russo and Family were able to overcome their enormous grief of the loss of a child by establishing the Theresa Alessandra Russo Foundation. Although Doctor's could never confirm whether Theresa could see or hear Theresa loved movement and sound. The foundation honors the memory of Theresa by fostering each child's unique abilities through direct support and programs focusing on art, music, dance and recreation. To date the Theresa Russo Foundation has raised over Five Hundred Thousand Dollars to support a world where every child regardless of ability or challenging conditions is free to communicate through any art form available including the creation of Theresa's Fun Place at the United Cerebral Palsy of Nassau County and the Theresa's Academy of Performing Arts in Lido Beach.
Recently the foundation received a request from 5 adults with Down syndrome to host an art class and Susan promptly responded "Let's do it!" This again demonstrates Susan's commitment and dedication for art and artistic expression for individuals with challenging conditions.
Susan was born and raised in Charlotte, North Carolina, relocated to New York City in 1979 and received a Masters in Dance Education from Columbia University. From then on her career has been dedicated to teaching children of all ages and abilities and raising her family Dante, Elizabeth, Theresa and Robert with her loving husband Vincent.
During her charitable work Susan has also received a Masters in Special Education from Dowling College with a never ending pursuit of offering the highest quality of life to all children of special needs and their families.
Pictured with Legislator Ford is Mrs. Susan Russo