April 4, 2011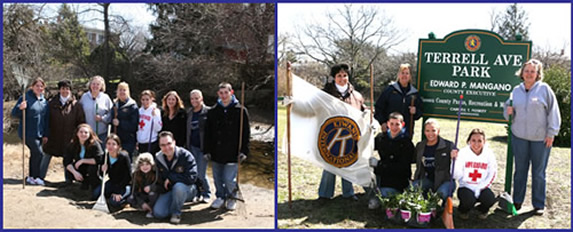 LEGISLATOR DENISE FORD & KIWANIS CLUB of
OCEANSIDE MEMBERS VOLUNTEER on "KIWANIS ONE DAY"
Terrell Avenue Park in Oceanside recently had a "face lift" thanks to the Kiwanis Club of Oceanside and fellow Long Beach Kiwanis member Nassau County Legislator Denise Ford.
When Kiwanis member Seth Blau called Legislator Ford's office and asked for help on "Kiwanis One Day", a day designated for all Kiwanis Clubs around the world to volunteer their time in some way to help their communities, to clean up Terrell Avenue Park. "Let's do it" said Legislator Ford.
With the help of Nassau County Parks & Recreation Commissioner Carnell Foskey and Nassau County Public Works Commissioner Shila Shah we were provided with a new sign, new wood restored to the benches, paint, & brushes and we supplied the Kiwanis Volunteers including The Key Club.
"Mother nature gave us a beautiful day for cleaning, and the park is now a more pleasant place for our neighbors to stop and enjoy!" said Legislator Ford.
Picture #1, above left; standing L to R; Mary Weber, Sandie Schoell, Legislator Ford, Nancy Baxter, April Gulotti, Brigitte Misitano, Kimberly Lattke, Max Simon. Kneeling: Krist Kocaj, Allison Rottenberg, Lesye & Seth Blau.
Picture #2, above right; standing L to R; Sandie Schoell, Nancy Baxter, Legislator Ford. Sitting; Max Simon, Kimberly Lattke & April Gulotti.