April 20, 2010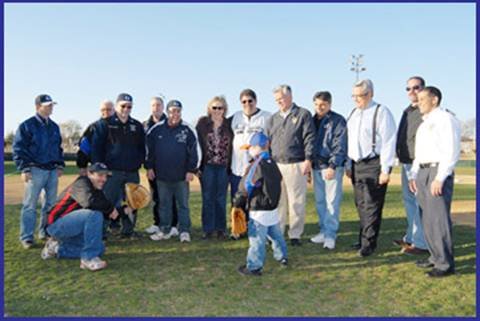 Legislator Ford Celebrates Opening Day For Oceanside Little League
Legislator Denise Ford recently joined with other dignitaries to celebrate opening day of The Oceanside Little League. It was the first game of inter-league play. Oceanside National League hosted The Oceanside American League at Wright's Field.
Pictured (left to right): Former Oceanside National League Presidents Bob Burns and Scott Fiala; former Oceanside American League Chairman Bobby Colucci; former American League President Bob Madison; Oceanside National League President Andy Pergament; Nassau County Legislator Denise Ford; Oceanside American League past president Mike Lease; State Senator Dean Skelos;
Oceanside American League past president George Ciociano; Senior Councilman Anthony Santino, Park Supervisor Mike Sullivan; and Town Clerk Mark Bonilla.
Throwing out the first pitch to Oceanside American League President Pat Doherty is little leaguer Philip Califano.