May 17, 2011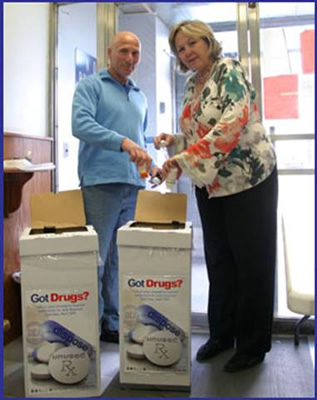 Legislator Denise Ford and Long Beach Police Team Up with the
U.S. Drug Enforcement Administration "Take Back Initiative"
Nassau County Legislator Denise Ford and the Long Beach Police Department joined the DEA's nationwide "Take Back Initiative" to help keep unused medications off the streets and out of the hands of our children. The Long Beach Police Station was set up as a collection site for residents to safely dispose of unused prescription and over the counter medications.
"Also keep in mind that flushing medications down the drain can contaminate our waterways and drinking water", said Legislator Ford. "We must help keep our environment clean and our children safe." Over 50 pounds of pharmaceuticals were safely disposed of.
Pictured with Legislator Denise Ford is Long Beach resident Marvin Weiss dropping off their unused medications.