May 17, 2011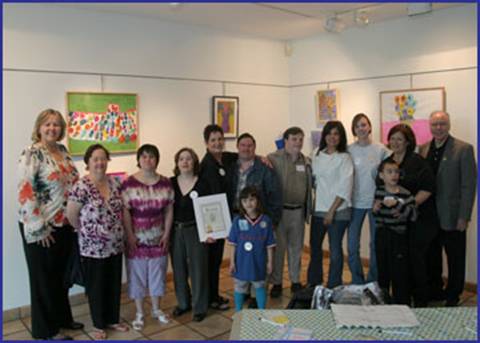 LEGISLATOR FORD ATTENDS GALA ART SHOW OPENING
Nassau County Legislator Denise Ford recently attended The Theresa Academy of Performing Arts 2011 Gala Art Show Opening at the Long Beach Public Library. All of the artwork displayed was completed by the students of TAPA which has programs dedicated to individuals with challenging conditions.
The artwork will be on display the whole month of May, and if you'd like to own a unique piece of art you may purchase it. All proceeds will go directly to the TAPA Summer Camp Program which focuses on art, music, dance, and recreation for children with special needs. "I was so impressed by the talent of these amazing students", said Legislator Ford, "and to be part of the First TAPA Art Show Opening"!
Pictured from left to right: Legislator Ford, students; Jeanie McHale, Anna McHale, Tania Laterza, Executive Director Theresa Academy Susan Russo, students; Dan Makar & Charlie Brennan, Teacher, Jamie Cohen, volunteer, Julia Scully, Teacher, Stephanie D'Marco, Co-Founder TAPA, Vincent Russo; Front Row; students Olivia McCabe & Colleen McCabe.