June 1, 2011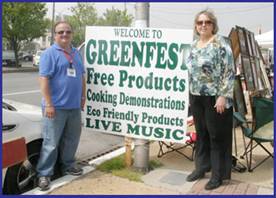 LEGISLATOR FORD SPEAKS OUT AT LONG BEACH GREENFEST 2011
Nassau County Legislator Denise Ford eagerly joined with scores of environmentally enthusiastic Long Beach residents, fellow community leaders, and several local eco-friendly vendors to experience the excitement of GREENFEST 2011.
Coordinated by community eco-activist Joe Sinnona, the locally-sponsored event was a part of The Green Project of Long Island; committed to making a difference in Green Living here on Long Island. The Kennedy Plaza event in Long Beach offered a day of "Green Educating", as well as a showcasing of eco-products, vendors, and crafts.
Legislator Ford was featured as the Keynote Speaker for the event, and later commented, "I am so honored to have been invited to speak about the important Green initiatives we are taking and will continue to take as an environmentally mindful community."
Shown in photo, top left: Local Realtor Joe Sinnona, Nassau County Legislator Denise Ford.
Shown in photo, top right (L-R) Amanda Moore, Legislator Ford, Kelly Searcy, Vivian Searcy, and Maria Mosca (GREENFEST exhibitor).