June 6, 2011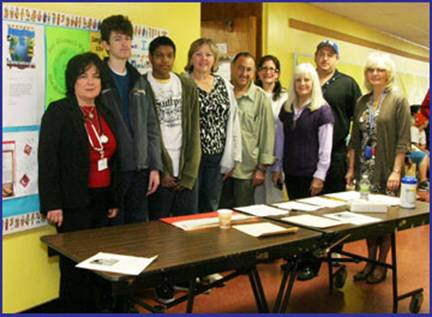 Legislator Denise Ford Supports Third Annual Free EKG Screening for LB Athletes
Long Beach Middle School hosted the third annual Free Echocardiogram & EKG Screening program to all eighth graders who are planning to participate in District Sports to identify any Heart/Cardiac abnormalities.
The program was administered by Dr. Rubin Cooper, director of Pediatric Cardiology at Cohen's Children's Medical Center of NY, and was sponsored by Realtor Susan Gruen Helsinger, founder of the Jason F. Gruen Research Foundation. School nurses Lori Montgomery, Mary Beth Thurston and Elizabeth Leibowitz assisted head nurse Barbara Young. Liaison under the "We're More than Realtors," program is LIBOR Director Neil Sterrer.
The event brought 48 student athletes, along with their parents. 8 Students were found to have some type of heart abnormality with 1 needing immediate consultation with the doctor. Almost 150 students have been screened over the past 3 years, with 12 lives saved.
Pictured (L-R): Nurse Lori Montgomery, Student Alexos Mesiouris, Student Aaron Thompson, Nassau Legislator Denise Ford, Coordinator Neil Sterrer, Nurse Marybeth Thurston, Nurse Barbara Young, LB Athletic Director Arnie Epstein, Nurse Liz Lebowitz