June 9, 2010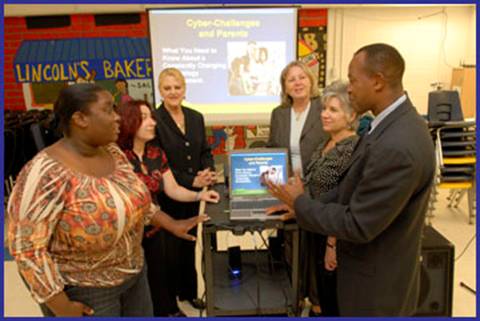 Legislator Ford Hosts Cyber Bullying Forum
Legislator Denise Ford recently hosted an important Community Forum discussing internet safety and the related issue of cyber-bullying.
In attendance at Island Park Middle School were parents and concern residents of the Long Beach, Island Park, and Oceanside School Districts, in addition to several officials from the schools.
Presentations were given by speakers from the NYS Attorney General's Office, as well as representatives from the Big Brothers & Big Sisters and The Long Island Crisis Center.
The forum concentrated primarily on the discussion of internet use, the risks involved with information exposure, and what parents can do to promote safety and prevent danger.
Pictured, left to right: Stephanie Adrien, Christine Cione, Johanna Mathieson-Ellmer, Legislator Ford, Superintendent of Island Park Schools Dr. Rosemarie Bovino, and Andre Job from the office of the NYS Attorney General.