June 14, 2010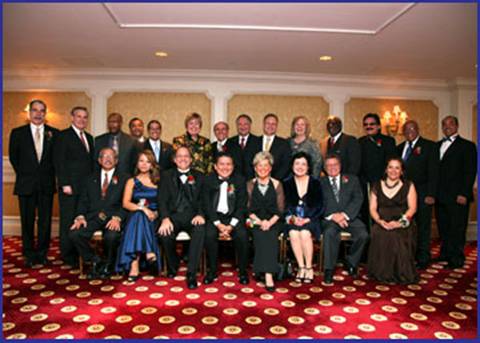 LEGISLATOR FORD ATTENDS THE SUCCESSFUL CIRCULO de la HISPANIDAD
SPRING SCHOLARSHIP & FUNDRAISING GALA CELEBRATING 30 YEARS
Círculo de la Hispanidad recently held its Annual Gala at the Garden City Hotel to celebrate the 30th anniversary of the organization and to raise funds for Círculo's Scholarship Fund. This year the organization honored: Supervisor Kate Murray, Town of Hempstead; Mr. Robert Hopkins, RPh., Total Care Rx; Frank and Elizabeth Minier, Laguna Grill; Commissioner Angelo Rios, Nassau County Police Department; as well as the Long Island Hispanic Coalition consisting of Pascual Blanco, Maria Cuadra-Fernandez, Miriam Garcia, Margarita Grasing, Nadia Marin, Lillian Rodriguez, Gladys Serrano, and George Sileron.
Along with Legislator Ford were nearly 300 attendees, including elected officials, sponsors and friends, contributed to this successful Gala, with a first class banquet, orchestra, D.J. and a lot of dancing.
The beautiful event ended with fantastic raffles and a silent auction sponsored by many local donors. This year, thanks to their support, Círculo provides scholarships to thirty Hispanic High School graduates attending college. Circulo raises funds for Hispanic high school graduates in effort to ensure that youth have access to education. Hispanics continue to represent the largest group of high school dropouts in the nation. With help from the community, Círculo makes a difference in the lives of youth by emphasizing the importance of education as a pathway to success.
PICTURED; Standing: Robert Hopkins, Tom Alfano, Mayor Wayne Hall, Hector Martinez, Mark Bonilla, Town of Hempstead Supervisor Kate Murray, Gil Berndardino, George Maragos, County Executive Ed Mangano, Nassau County Legislator Denise Ford, Charles Renfroe, Angelo Rios, Diego Nunez, Leo Fernandez.
Seated; George Silberon, Elizabeth Minier, Frank Minier, Jimmy Perez, Margarita Grasing, Maria Fernandez, Pascual Blanco, Maria Ayala.