June 25, 2010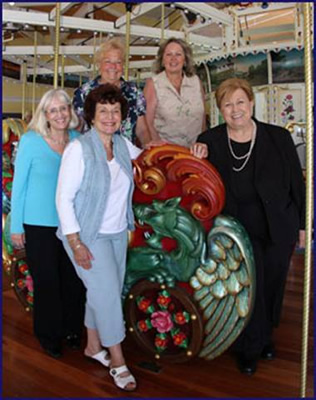 Nassau County Legislator Denise Ford visits Historic Nunley's Carousel
Legislator Denise Ford joined with several other Nassau Legislators in celebration and in awe of the newly restored historic Nunley's Carousel. Nunley's Carousel and Amusements closed in 1995, but by the efforts of Nassau County officials, concerned citizens, and shared feelings of nostalgia, the ride was relocated to Museum Row on property directly adjacent to the Cradle of Aviation.
The beautifully renewed carousel is now open to the public, and information regarding special activities and events can be found on their website, www.CradleOfAviation.org. Please call (516) 572-4066 for more information including reservations and hours of operation.
Pictured with Legislator Ford are Legislators Judi Bosworth, District 10, Legislator Norma Gonsalves, District 13, Legislator Rose Walker, District 17 and Legislator Judy Jacobs, District 16.