June 25, 2012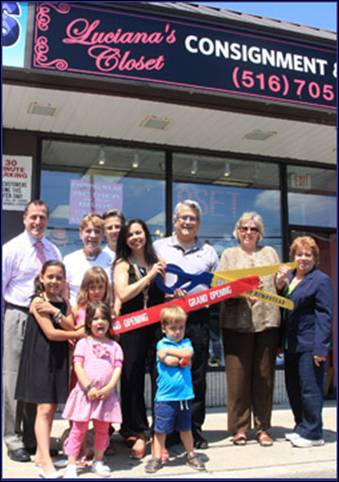 Legislator Ford Welcomes New Business to Oceanside
Legislator Ford recently helped introduce Luciana's Closet to the Oceanside community. Owned by Luciana Makower, the new boutique is a welcome addition to the neighborhood, and will certainly become a popular location for women to shop for trendy and casual daywear. Luciana's Closet is sure to be a gathering place for residents in the years to come and will enhance the quality of life in the community.
"I am excited to be here, and I wish luck and success to Luciana in her exciting new business endeavor," said Ford, who joined TOH Councilman Anthony Santino, NYS Assemblyman Brian Curran, Gail Carlin, president of the Oceanside Chamber of Commerce, staff, family, and friends as Luciana's Closet was formally introduced to Oceanside.
Pictured with Legislator Ford, Councilman Santino, and Assemblyman Curran are owner Luciana Makower, her husband David, as well as staff, family, and friends.