October 7, 2011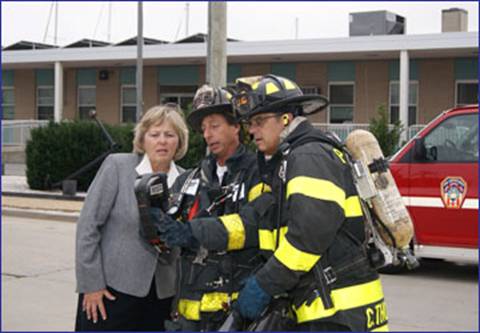 LEGISLATOR FORD SECURES FUNDING FOR
THERMAL IMAGING CAMERAS FOR LOCAL FIRE DEPARTMENTS
Nassau County Legislator Denise Ford visited Lido and Point Lookout Fire District and saw firsthand how the thermal imaging cameras operate from Ex- Fire Chiefs Chas Thompson & Warren Jaffe.
When the Board of Fire Commissioners Vice Chairman Steven Weitz wrote my office and asked for assistance in obtaining funding to purchase three Thermal Imaging Cameras, I knew how important these were to assist our firefighters in performing size-up, locating and rescuing civilian victims, and firefighters, who may become lost or trapped during a fire.
"I not only secured the funding for the Lido & Point Lookout Fire Department, I was also able to obtain funding for the Long Beach & Oceanside Fire Departments. Eleven cameras in all!" said Ford.
Pictured left to right: Legislator Ford, Ex-Chief Jaffe & Ex-Chief Thompson.