October 27, 2010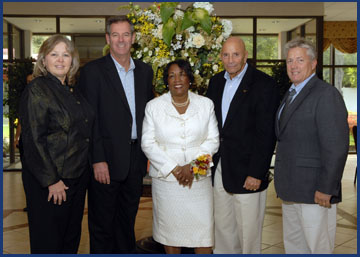 LEGISLATOR FORD CELEBRATES LONG BEACH REACH 40TH ANNIVERSARY
Nassau County Legislator Denise Ford Congratulates Long Beach Reach on their 40th Anniversary at their Annual Awards Bunch also recognizing Flossie Conyers of Long Beach Reach, Mike Bradley, Kevin McCarthy & Pete Meyers from Long Beach Polar Bears and New York State Assemblyman Harvey Weisenberg for their contributions to the Long Beach Community.
"I am honored to help celebrate such a momentous occasion for such an important youth and community agency", said Legislator Ford.
Pictured with Legislator Ford, left to right: Pete Meyers, Flossie Conyers, Assemblyman Harvey Weisenberg, and Kevin McCarthy.