June 26, 2006
SKELOS HONORS NASSAU COUNTY LEGISLATOR
DENISE FORD AS HIS 2006 WOMAN OF DISTINCTION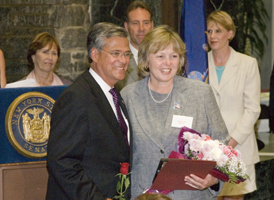 On Tuesday, June 20th, New York State Senate Deputy Majority Leader Dean G. Skelos (R-Rockville Centre) today honored Nassau County Legislator Denise Ford (4th District) as his 2006 New York State "Woman of Distinction." Senator Skelos presented Legislator Ford with this award at the State Senate's 9th Annual "Women of Distinction" ceremony in Albany. Denise Ford represents the 4th Legislative District which includes the City of Long Beach, Lido Beach, Atlantic Beach, Point Lookout and parts of Oceanside and Island Park.
"Denise is an exceptional public servant and an even better person," said Senator Skelos. "Her success and personal courage following the tragic loss of her husband are an example for everyone."
Following the death of her husband, Harry, a decorated 27-year veteran of the New York City Fire Department at a fire in Queens on Father's Day 2001, Denise Ford's story has turned from one of loss into a story of strength and inspiration.
Denise Ford was elected to the Nassau County Legislature in 2003 and reelected in 2005. As an elected official, she has been repeatedly honored for her achievements and constituent service. In May 2004, Denise received the Big Sister award from Project Challenge for her diligent work to improve the Long Beach community. In October of that year, she was honored as Woman of the Year by the Michael Valente Lodge, as well as being named Woman of the Year by the Long Beach Chamber of Commerce. Denise was also honored as a "Woman of Valor" by the Sisterhood of Temple Emanu-el. Most recently, Legislator Ford was honored as Woman of the Year by the Nassau County Court Officers Association.
Denise was raised in a family dedicated to public service. Her father was a retired member of the New York City Police Department and her mother worked for many years with the United States Customs Department. As a 25-year resident of Long Beach, she has long been active in the City's West End. Legislator Ford is the mother of three children, Janna O'Brien, Harry and Gerard.
"There is no greater honor than to be recognized by a person whom I admire as much as Senator Skelos, someone who has done so much for our area," said Legislator Ford. "I thank Senator Skelos for this award and I'm grateful to my constituents for their continued trust and the opportunity to serve them."
The Senate's "Woman of Distinction" program was created in 1998 to honor New York women who exemplify excellence, or whose professional achievements or acts of courage, selflessness, integrity or perseverance serves as an example to all New Yorkers.