January 22, 2007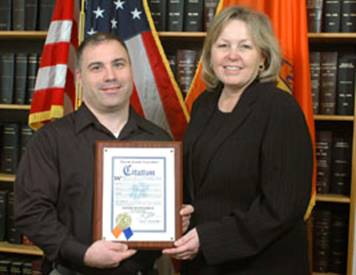 Legislator Ford Awards Local Hero Citation for Heroism
On Monday, January 22, 2007, Nassau County Legislator, Denise Ford, bestowed a Citation for Heroism upon Franklin Square resident, Daniel Fitzpatrick, for his courageous actions which saved a woman's life.
While traveling home from an EMT training class, Mr. Fitzpatrick, a New York City Fire Department Emergency Medical Technician, was on the subway platform at Flushing Avenue in Brooklyn on January 11, 2007 when he noticed that a woman on the platform appeared distraught and disoriented. Mr. Fitzpatrick began talking to the woman with the hopes of calming her down. However, as the next train approached the station, the woman began to move toward the tracks with the intent to jump in front of the train.
Concerned for the woman's safety, Mr. Fitzpatrick dashed after the woman and pinned her down as the train passed through the station and stunned subway passengers looked on.
Legislator Ford is very proud of Mr. Fitzpatrick and applauds his fearless conduct. Says Legislator Ford "Mr. Fitzpatrick is a true hero and his compassion and courage are qualities that make him a role model for all especially our young people. He exemplifies what is truly great in Nassau County."