February 27, 2007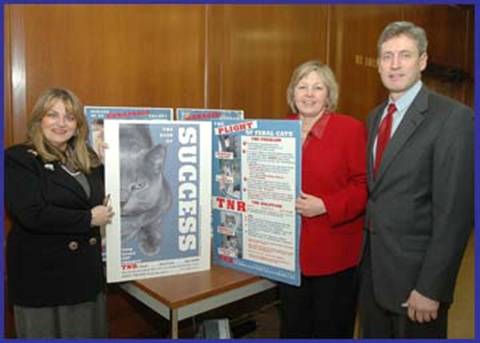 Nassau County Legislators Hold Feral Cat Hearing
Nassau County Legislators Denise Ford and Diane Yatauro, accompanied by Legislator Richard Nicolello, held a public hearing on February 27, 2007, to address the ever increasing stray and feral cat situation in Nassau County. Attendance at the hearing was at an all time high. Many concerned residents, public officials, founders and members of community-based pet rescue foundations and coalitions, veterinarians, healthcare professionals, and representatives from pet shelters were present to voice their concerns. Further, representatives were there from the Nassau County Health Department as well as both Nassau and Suffolk County SPCAs.
This well-informed and passionate group made it clear that the stray and feral cat situation in Nassau County is a big problem, and it is only getting bigger. It is an unfortunate fact that many cats are released or abandoned to fend for themselves, and if not controlled, these cats multiply very quickly. One female cat can have up to four litters of kittens in a single year. Over time, these abandoned cats become hungry, wild and can catch and carry diseases, such as rabies. There are approximately 250,000 feral cats in Nassau County at this time.
Legislators Ford and Yatauro are leading the charge in searching for a way to address the ever increasing population of feral cats. The Feral Cat Hearing was a way for concerned citizens to voice their ideas for a solution to control the problem and discuss alternatives to catching and euthanizing these cats. One alternative is called "TNR," which stands for Trap-Neuter-Return. TNR is championed by Dr. Laura Gay Senk, the creator of the Long Island Cat Project, and is a procedure in which entire clusters, known as "colonies," of stray and feral cats are humanely trapped, vaccinated against rabies and other diseases, then spayed or neutered. Many of the cats are then adopted into caring homes, and those that are too wild to be adopted are returned to live out their lives under the care of neighborhood volunteers.
After much heartfelt commentary and discussion, Legislators Ford and Yatauro laid out the next steps in the fight to humanely deal with the feral cat situation. The Legislators will look into legislative options including researching a law which would require all shelters to spay or neuter feral cats before adopting or releasing them, developing a registry where local cat trappers and individuals practicing TNR can identify themselves as safe and inoculated individuals, seeking support for a county-funded facility to temporarily house and treat these cats, and promote acceptance and awareness of the benefits of TNR.
"It is abundantly clear that something must be done to reduce the number of feral cats on our streets and under our boardwalks. We must also do something to prevent the suffering these cats endure out in the cold with no food. It is also clear the there is an army of volunteers in our county ready to help address the feral cat problem. I will do all that I can to make a difference," stated Legislator Ford. If you would like to help, or have any questions, please contact Legislator Ford at 516-571-6204.
"Pictured from left to right are Legislator Yatauro, Legislator Ford and Legislator Nicolello."