March 21, 2007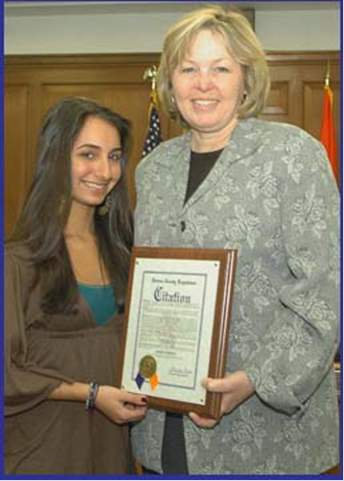 Legislator Ford Honors Trailblazer of the New Millennium
At the Legislative Meeting held on Monday, March 19, 2007, Nassau County Legislator Denise Ford selected 17 year old Marin Shapiro as one of Nassau County's 2007 Trailblazers of the New Millennium. In recognition of Women's History Month, each year Legislator Ford honors a woman from Legislative District 4 who has distinguished herself as a positive role model for women of all ages in the community. Marin Shapiro, a junior from Long Beach High School has received this year's title as Trailblazer of the New Millennium.
"This year, I wanted to honor a woman who could set an example for all of the students and children in our District. I chose Marin because she not only excels academically, but she also devotes immeasurable amounts of time to charitable and volunteer efforts here in our community. Her generosity has touched many lives," stated Legislator Ford. After the tragic loss on September 11, 2001, Marin embarked on an effort to raise funds to do something to memorialize the loss of life suffered by the people of Long Beach. Marin successfully raised hundreds of dollars to create the Long Beach World Trade Center garden located on Virginia Avenue in Long Beach in honor of Long Beach's fallen including Legislator Ford's husband, Fireman Harry Ford of Rescue 4.
Marin has also volunteered as a Long Beach Polar Bear and Christmas Angel, has been a member of the B'nai Brith Youth Organization since 8th grade, and takes all honors, college-level or AP classes at school. Additionally, Marin is the founder of the Long Beach School District's Rock and Wrap It Up after learning about the program when she volunteered at Jones Beach Amphitheater working with the music industry to collect leftover backstage food from concerts and music events held there and has it immediately delivered to a food pantry or shelter of need.
"I am so very proud to highlight Marin's achievements by giving her this Trailblazer of the Millennium award. She sets a great example for all women who want to make a difference in their communities, and I encourage her to continue to inspire us!" said Legislator Ford.