April 2, 2008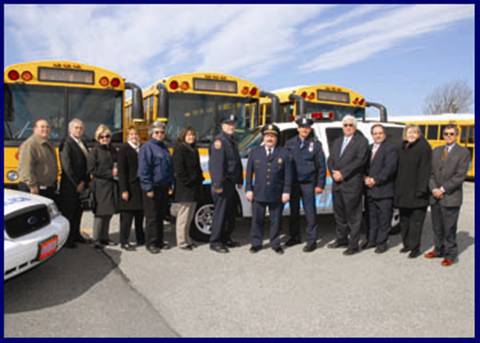 Operation Safe Stop A Success
Nassau County Legislator Denise Ford attended the annual Operation Safe Stop Day on Wednesday, April 2nd, 2008. On Operation Safe Stop Day, police officers ride on school buses and patrol in marked and unmarked vehicles near bus stops enforcing the law in the Long Beach City School District.
Legislator Ford kicked off the event at the school bus depot on Lido Boulevard joined by Inspector Clark from the 4th Precinct, Commissioner Joanne McGarry of Nassau County Traffic Safety, Commissioner Thomas Sofield of the Long Beach Police Department, Long Beach School Superintendent Dr. Robert Greenberg, and Robert Sambo, Director of Transportation for the City of Long Beach.
As of 10:00 am on the day of the event, 14 tickets had already been given to vehicles who violated the law by passing stopped school buses. Nearly 1,000 tickets have been given out countywide in the past three years for this same offense. Also, over the past five years, thirty-five students have been hit by vehicles illegally passing school buses, resulting in two fatalities. An estimate suggests that everyday more than 50,000 vehicles illegally pass school buses in New York. Operation Safe Stop aims to prevent situations like these from continuing to occur.
"Drivers are either unaware of the laws, or they are being reckless. Whatever the reason, our children are in danger when cars pass stopped school buses. It is important that all drivers know that they must stop whenever a school bus is flashing red lights – even if the car is on the other side of the road or median," said Legislator Ford. " Operation Safe Stop is a great way to promote awareness of this unsafe situation and to catch those who do not obey the law."
Pictured, left to right, are: Supervisor of Transportation for Long Beach Public Schools Robert Sambo, Assistant Superintendent for Business of Long Beach Public Schools Frank Ruggiero, Cindy Brown of the Nassau County Traffic Safety Board, Joanne McGarry of the Nassau County Traffic Safety Board, Safety Inspector for the Long Beach Public Schools Rennie Plescovich, Transportation Supervisor and President of NYAPT Nassau Chapter Claudia Hardes, Nassau County Police Officer Craig Kasin of the 4th Precinct, Inspector Paul Clark of the Nassau County Police Department and Commander of the 4th Precinct, Nassau County Police Officer William Ditmars of the 4th Precinct, Police Commissioner of the Long Beach Police Department Thomas Sofield, Christopher Mistron of the Nassau County Traffic Safety Board, Legislator Denise Ford, and Dr. Robert Greenberg Superintendent of Long Beach Schools.