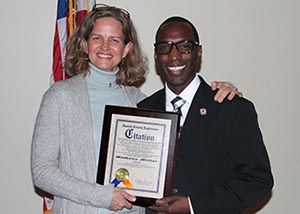 (MINEOLA, NY) – Nassau County Legislator Laura Curran (D-Baldwin) was proud to honor Anthony Miller for his outstanding advocacy for the Freeport community during a presentation recognizing February as African American History Month at the Nassau County Legislature in Mineola on Monday, February 24, 2014.
Miller, who serves as trustee on the Freeport Board of Education, has a strong record of community involvement and civic leadership, and has been actively involved with Freeport's youth, its senior citizens and clergy. His strong ties to the Freeport community have allowed him to be active and supportive of school district initiatives, and he continually works toward improving the Freeport schools.
"Anthony is one of the most civic-minded people I know," said Legislator Curran. "And it comes from his heart, and from pride in his family's deep Freeport roots. Anthony also happens to be kind, calm and down-to-earth – one of those rare gems that make the world a better place."
Miller is a Freeport High School graduate, Class of 2001, and a third generation graduate of the Freeport school system. He is currently a member of Freeport Cares and serves on both the Board of the Commission for the Conservation of the Environment of Freeport and the Freeport Traffic Safety Commission.
He served as a member of the recent Bond Referendum Committee, which allowed the district to construct a new synthetic turf field at no additional cost to the taxpayer, as well as on the North Main Street Revitalization Project Steering Committee for the Village of Freeport, and continues to advocate for greater economic development within Freeport.
Miller understands and appreciates the diversity of Freeport, and accordingly is a member of the New York State Caucus of Black School Board Members, as well as the National Association of Latino Elected & Appointed Officials.
He is also very active in working with Freeport youth, and has worked with the Youth Department of Zion Cathedral, served on the Emmanuel District Youth Advisory Board and has worked with Freeport Youth Outreach, now known as Freeport PRIDE. In addition, he has been involved with Freeport's senior citizens, serving as Director of Senior Citizens Affairs at the Freeport Recreation Center
He has previously served as a member of the Freeport Schools Scholarship & Honors Board, and is a former member of the Executive Committee of the Freeport-Roosevelt NAACP, where he chaired the Political Action Committee.