May 21, 2008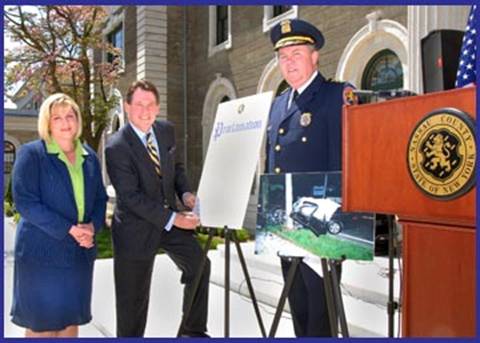 Nassau County Legislature Proclaims May
"Safe Teen Driving Month"
Nassau County Legislator Francis X. Becker, Jr., joined his legislative colleagues in urging the County's teenaged drivers to make a commitment to driving safely and responsibly. Teenagers in high schools throughout Nassau County were also asked to sign the Community Parent Center's "Driving in the Safe Lane Pledge" which includes among other safety precautions the teen's promise to wear a seatbelt, limit the number of passengers in the car, obeying the speed limit and not using a cell phone while driving. To further emphasize the importance of driving safely, the Nassau County Legislature, with one voice, declared the month of May as "Safe Teen Driving Month."
This initiative is undertaken by the Legislators as the "100 Deadliest Days for Teen Drivers" are approaching. Including Memorial Day, May is the time for proms, graduation parties and the onset of summer vacation. Unfortunately, it is also the time when tragedy strikes and families are forced to cope with the death of a teenager in a car accident.
Legislator Becker said, "Parents, educators, law enforcement, elected officials and the entire community must to do all we can to keep our teenagers safe at all times and especially during prom season, graduations and summer vacations. We can help by increasing awareness about safe teen driving practices in Nassau County and by encouraging communication with our teens. It gives me great pride in joining my colleagues on the Nassau County Legislature proclaiming the month of May as 'Nassau County Safe Teen Driving Month.'"
Wendy Tepfer, the director of Community Parent Center, said, "We applaud the Nassau County Legislature for taking this action today in its effort to increase public and teen awareness of the dangers of unsafe driving. We ask teens, parents and schools to take proactive measures to ensure smarter and safer driving practices as we move into the 100 deadliest days—the days between Memorial Day and Labor Day—when teen driving crashes and fatalities increase. Teens should sign the Driving in the Safe lane Pledge which states they will abide by ten safe driving practices to promote responsible driving."
Pictured: Inez Birbiglia Chairman of the Allstate Foundation, Legislator Francis X. Becker, Jr., signing the Proclamation, and NC PD Patrol Chief William McHale.