March 15, 2010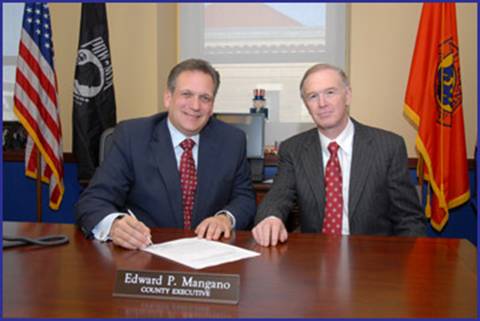 Kopel and Mangano Announce Slashes in Government Spending
Outline Fixes for Budget Gaps Inherited from the Suozzi Administration
On Monday, March 8th, Legislator Howard Kopel joined Nassau County Executive Edward Mangano to announce that they have begun to reform county government by slashing patronage and cutting spending to fill the 2010 budget hole left behind by the previous administration and the repeal of the home energy tax.
The County Executive's $49 million savings plan includes $22 million in cuts from payroll and managerial patronage positions from the previous administration. Additional savings have been gained from careful reviews of the structure of each of the county's 47 departments.
"The previous administration tried to fill the budget gap with an unfair and burdensome tax," said Legislator Kopel. "Instead of implementing a frivolous tax, we're going to cut patronage and fat."
Joined by County Executive Mangano, Legislator Kopel stressed the importance of fiscal responsibility that will be the hallmark of the new administration. "It isn't right that taxpayers were asked to essentially bail out the previous administration because of their bloated spending," said Kopel. "This administration is going to look inward and make cuts, not push problems to the taxpayers."
Pictured: County Executive Mangano and Legislator Kopel.