April 7, 2010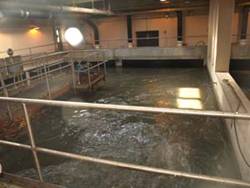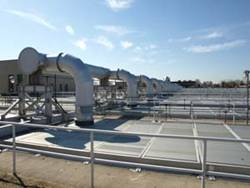 Legislator Howard J. Kopel Tours Bay Park Plant
Nassau County Legislator Howard J. Kopel, who serves as Vice Chair of the Public Works Committee, recently toured the Bay Park Sewage Treatment Facility. Legislator Kopel was joined by CSEA Local 830 officials, DPW Unit President Bob Campo, Town of Hempstead Councilman Anthony Santino, and local civic association officials.
Bay Park is a 24 hours a day, 7 days a week facility that treats an average flow of 70 million gallons per day of wastewater from Queens to the Meadowbrook Parkway encompassing 550,000 people. The effluent of the plant is discharged into local waterway, Reynolds Channel via a 2.3 mile long outfall pipeline. Treatment processes in use are preliminary/primary treatment, secondary treatment, sludge thickening, digestion, and dewatering, disinfection, power generation, and odor control.
Odor control is one of the main concerns of the facility according to Kopel and Santino, not just to the workers, but the outlying residents. An RFP for evaluation of all odor controls that are on site should arrive before the legislature within 2-3 months, with a 6-9 month study to follow. At that point, there will be a better idea of if the odors are at acceptable levels, and if they are not, why that is the case.