April 26, 2013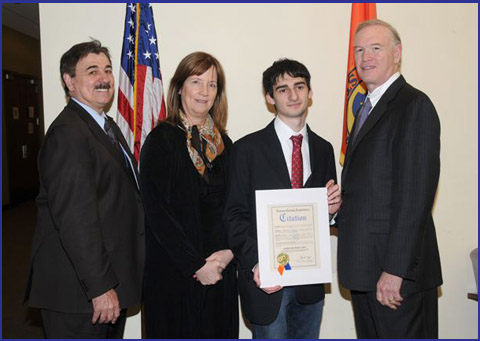 LEGISLATOR KOPEL SALUTES HEWLETT HIGH SCHOOL INTEL COMPETITION FINALIST
Legislator Howard J. Kopel, Alternate Deputy Presiding Officer of the Nassau County Legislature, congratulated Intel semi-finalist and Hewlett High School student Jason Kay at a recent Nassau County Legislature meeting for his scientific accomplishment.
As one of only 300 semifinalists across the country, Kay received much praise for his scientific study entitled "Why do Bullies Bully? An Examination of the Role of Intrinsic and Extrinsic Factors in Motivating and Enabling Bullying Behavior." Jason's work on this project started in his Social Science Research Class, continued through the summer, and he finished writing the paper during Hurricane Sandy towards the end of 2012.
Pictured (L to R) are Hewlett High School Principal Tom Russo, social science research advisor Dr. Patricia Nardi, Intel finalist Jason Kay and Legislator Howard J. Kopel.