June 25, 2010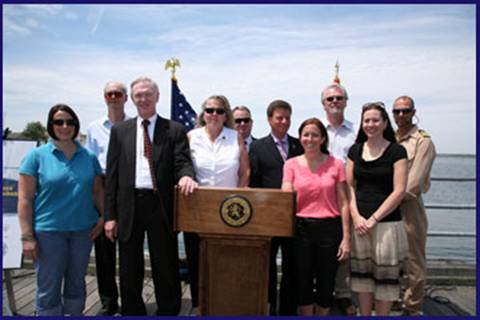 Legislator Howard Kopel joined with Environmentalists to
Demand Governor Release Funds for Study of South Shore Bays
Nassau County Legislators Howard Kopel, Denise Ford and David Denenberg have called upon Governor Paterson to release over half of a million dollars in funding to continue studies of the water quality in the Western Bays, including Hempstead Bay and South Oyster Bay. Nassau's Western Bays have been experiencing continually degrading water quality, excessive seaweed growth, and increased shellfish harvesting closures for years due to the discharge of treated effluent from 5 sewage plants in the region.
"The Western Bays are a precious natural resource for all Long Islanders. We need to complete the TMDL testing in order to stop the degradation of the waters and start improving the water quality so residents can fish and swim in the previous decades," said Legislator Kopel.
Along with a consortium of local environmental groups, Legislator Kopel called upon Governor Paterson to release funds that were appropriated for a TMDL study back in 2007. "New York State's stalling tactics are contributing to the decline of our bays. It is critical that we act now to curb the damaging effects of 64.5 million gallons of treated sewage effluent entering into the delicate Western Bays. NYS must release the necessary, critical funds so we can finally move forward with restoration efforts," stated Adrienne Esposito, Executive Director, Citizens Campaign for the Environment.
Nassau County is committed to the restoration of the Western Bays. The stalled funding will allow an MOU (Memorandum of Understanding) to go forward permitting Stony Brook University to commence critical research in Western Bays. The MOU is currently stalled in the NYS Department of Budget. The Legislators compelled NYS to act now.
Pictured at a press conference on Magnolia Pier are: Kristin Ochtera of Green Bay Parkers, Gerald Ottavino of the Point Lookout Civic Association Environmental Committee, Legislator Kopel, Legislator Denise Ford, Brian Nugent of County Executive's Office, Legislator David Denenberg, Adrienne Esposito, Executive Director, Citizens Campaign for the Environment, Rob Weltner, Executive Director of Operation SPLASH, Maureen Dolan Murphy, Citizens Campaign for the Environment and Captain Don Harris, Operation SPLASH.