July 8, 2013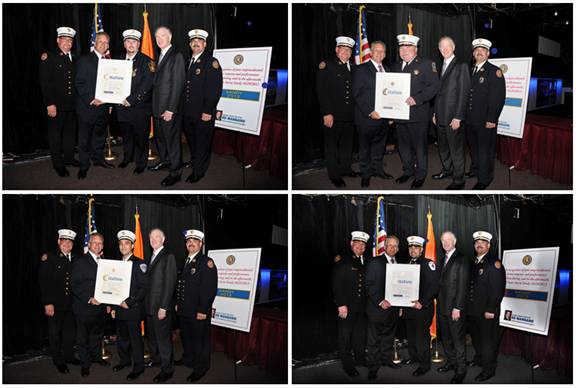 Legislator Kopel & County Executive Mangano
Honor Firefighters for Response to Hurricane Sandy
Nassau County Legislator Howard J. Kopel, the Majority Whip of the County Legislature, and County Executive Ed Mangano joined together to honor several Nassau County fire departments for their stellar response throughout the community during and after Hurricane Sandy.
Kopel & Mangano presented the Hurricane Sandy Meritorious Award to the chiefs of the East Rockaway, Rockville Centre, Hewlett and Island Park fire departments and saluted the volunteer first responders for protecting our families and community in the wake of the superstorm.
"When fires, tidal flooding, sustained power outages and medical emergencies arose as a direct result of the storm, the department and its firefighters and EMTs were there to provide immediate aid – and also mutual assistance to neighboring communities," said Legislator Kopel.
"Without the help of Nassau's first responders, we would have experienced far more devastation and loss of life," added County Executive Mangano.
Legislator Howard J. Kopel County Executive Ed Mangano were joined by Vice Chair of the Nassau County Fire Commission Walter Weltner and Nassau County Fire Marshal Commissioner Scott Tusa to present the Hurricane Sandy Meritorious Award to East Rockaway Fire Department Chief Gene Torborg, Rockville Centre Fire Department Chief John Thorp III, Island Park Fire Department Chief Anthony D'Esposito and Hewlett Fire Department Chief John Carlo.