October 16, 2013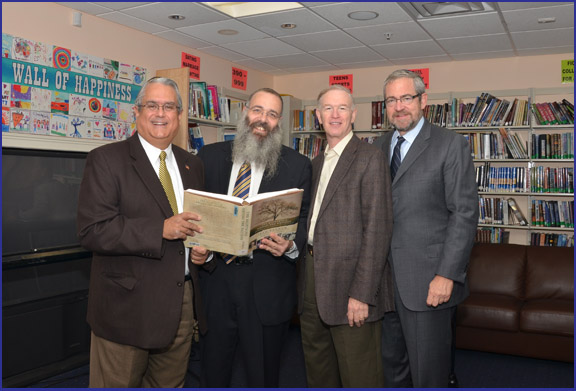 Legislator Howard J. Kopel Joins Councilman Santino at
Levi Yitzchak Family Center Inaugural Breakfast
Nassau County Legislator Howard J. Kopel was joined by Councilman Anthony Santino as they attended the The Levi Yitzchak Family Center Inaugural Breakfast. This event took place at the Levi Yitzchak Library in Cedarhurst.
The Levi Yitzchak Family Center is a Jewish lending library and multi-sensory center for the entire family. The Center is dedicated to Levi Yitzchak, who was just 9 years old when his soul was returned to its Maker.
Levi was a child who shared his zest for life with everyone he met. He was especially close with his family, and was a caring and devoted friend to all—classmates and community members alike. Levi enjoyed reading all kinds of books and loved writing his own short stories. He liked playing baseball, hockey and other sports. He loved hosting guests in his home and playing with his siblings.

Levi's was a life of learning, growing, giving and sharing.
Shown in photo, left to right: Councilman Santino; Rabbi Shneur Z. Wolowik from Chabad Center of the Five Towns; Legislator Kopel and Rabbi K Hain Cognation Beth Sholom.