March 22, 2010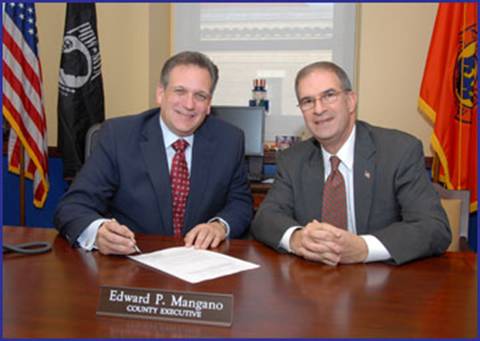 Muscarella and Mangano Announce Slashes in Government Spending
Outline Fixes for Budget Gaps Inherited from Previous Administration
Legislator Vincent Muscarella recently joined Nassau County Executive Edward Mangano to announce that they have begun to reform county government by slashing patronage and cutting spending to fill the 2010 budget hole left behind by the previous administration and the repeal of the home energy tax.
The County Executive's $49 million savings plan includes $22 million in cuts from payroll and managerial patronage positions from the previous administration. Additional savings have been gained from careful reviews of the structure of each of the county's 47 departments.
"We need to be forthright with the tax payers," said Legislator Muscarella. "These cuts focus on reducing the fat and patronage that carried over from the previous administration and making government operations more efficient. These cuts also prove that the unfair Home Energy Tax was an unnecessary burden on Nassau residents."
Joined by County Executive Mangano, Legislator Muscarella stressed the importance of fiscal responsibility that will be the hallmark of the new administration. "The cuts that are being made show that taxing residents shouldn't be the first course of action taken by a governing body," said Muscarella.
Pictured: Legislator Muscarella and County Executive Mangano.